Turbo Power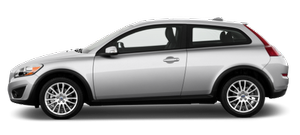 All C30s are powered by a turbocharged 2.5-liter inline-five-cylinder that produces 227 horsepower at 5,000 rpm and 236 pounds-feet of torque at only 1,500 rpm. Unlike some turbocharged engines that require premium fuel, the inline-five-cylinder runs on regular gasoline, which will save you money every time you're at the pump. With the standard six-speed manual, the C30 achieves an EPA-estimated 19/28 mpg (city/highway); choosing the optional five-speed automatic results in estimates of 19/27 mpg.
I'm glad Volvo decided to make the turbo five-cylinder the standard engine in U.S.-bound C30s, as its strong performance really complements the rest of the car. Acceleration is accompanied by a high-pitched whirring sound from the turbo, and Volvo says the car can accelerate from zero to 60 mph in 6.2 seconds with the manual transmission. There's slight engine vibration at idle, but the five-cylinder smoothes out nicely the moment you rev it.
My test car came equipped with the six-speed manual, and it is a well-executed transmission. The shifter has medium throws and moves from gear to gear with appropriate slickness. The transmission works with a light clutch pedal that won't wear out your left leg even if you find yourself stuck in a stretch of stop-and-go traffic.
See also:
Warning light—driver braking required
Adaptive Cruise Control can exert brake force that is equivalent to approximately 40% of the vehicle's total braking capacity. In situations requiring more brake force than ACC can provide and ...
Location of taillight bulbs
Brake lights (LEDs) Brake light Backup light Turn signals Rear fog light (driver's side only) NOTE If an error message remains in the display after a faulty bulb has been replace ...
Function
A vehicle towing a trailer may begin to sway for various reasons. Normally this only occurs at high speeds but, for example, if the trailer is overloaded or if the load is unevenly distributed ...