The Inside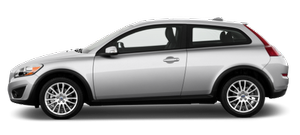 Like the exterior, the C30's cabin is highlighted by a design element, specifically a flowing center control panel. It's similar to the one in the S40 and V50, and the thin panel is partially separated from the rest of the dash, leaving room for a small storage bin behind it. It's a polarizing design, for sure — I found it modern and appealing while my wife thought it was ugly.
Whatever your opinion of the center console's design, its controls for things like the audio system and air conditioning are nicely integrated. The systems all share one LCD display, which each system monopolizes when necessary, like when you're tuning the radio or adjusting the air conditioning system's fan speed. It's an ergonomic setup overall, but I couldn't get used to the fact that the temperature setting doesn't display the exact temperature in its readout. Instead of setting the cabin at 72 degrees Fahrenheit, for instance, you have to guess where 72 falls between Low and High.
The C30 has front and rear bucket seats trimmed in Volvo's synthetic T-Tec material. Leather seats are optional. The T-Tec front buckets provide decent comfort, but they're on the narrow end of the spectrum and some occupants might find that the seat catches them in the wrong places. The standard manual seats (power seats are optional) are highly adjustable and include seat height, seat cushion angle and lumbar support controls. A tilt/telescoping steering wheel is standard.
The rear bucket seats are tolerable for adults as long as the front seats aren't slid too far rearward. Seat cushioning is rather firm, and the upright backrest might prove uncomfortable on longer trips.
From the driver's perspective, the primary downfall of the C30's cabin is that rear visibility is restricted due to wide D-pillars on either side of the glass hatch, as well as big rear-seat head restraints.
See also:
Messages
Park brake not fully released – A fault is preventing the parking brake from being released. Try to apply the parking brake and release it several times. If the problem persists, contact an aut ...
Tire designations
Federal law mandates that tire manufacturers place standardized information on the sidewall of all tires (see the illustration). The following information is listed on the tire sidewall: Th ...
Service position
Wiper blades in service position The wiper blades must be in the vertical (service) position for replacement, washing or to lift them away from the windshield when e.g., removing ice or snow. T ...