Adjusting the set speed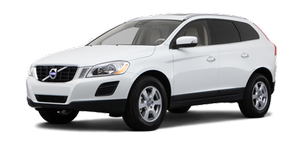 After a speed has been set, it can be increased or decreased by using the

or

buttons.
1. Press and hold down

or

until the vehicle reaches the desired speed.
> This will become the set speed when the button is released.
2. Press

or

for approximately a half second and release the button to increase or decrease vehicle speed by approximately 1 mph (1.6 km/h).
NOTE
• A temporary increase in speed by pressing the accelerator pedal, for less than 1 minute (e.g. when passing another car), does not affect the current cruise control setting. The vehicle will automatically return to the previously set speed when the accelerator pedal is released.
• If one of the cruise control buttons is kept depressed for more than approx.
1 minute cruise control is disengaged.
The engine must then be switched off in order to reset cruise control.
See also:
2009 Volvo S80 Review
The Volvo S80 was significantly redesigned for 2007, so it had been on the market only six months when the 2008 model arrived. The only significant change is a new engine option: a smooth and powe ...
Label information
1 Model plate: includes e.g., Vehicle Identification Number (VIN), codes for color and upholstery, etc. The model plate is located on the rear side of the B-pillar (the pillar between the front ...
Operation
Press to operate the air quality sensor (normal setting). or: Select one of the following three functions by pressing 1, 2 or 3 times. 1. The AUT LED lights. The air quality sensor is now acti ...