Shiftlock override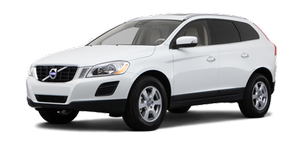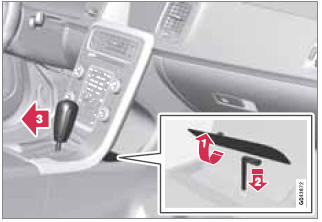 If the vehicle cannot be driven, for example because of a dead battery, the gear selector must be moved from the P position before the vehicle can be moved.
1 Lift away the rubber mat on the floor of the storage compartment behind the center console to expose the small opening for overriding the shiftlock system.
2 Insert the key blade into the opening. Press the key blade down as far as possible and keep it held down. Move the gear selector from the P position. For information on the key blade, see page 61.
See also:
How BLIS functions in daylight and darkness
Daylight BLIS reacts to the shape of surrounding vehicles. The system is designed to help detect motor vehicles such as cars, trucks, buses, motorcycles, etc. Darkness BLIS reacts to the headl ...
Safety
Volvos are renowned for their safety. This commitment is as old as the company itself. As Assar Gabrielsson, one of the founders of Volvo, declared: 'Cars are driven by people. The guiding principle ...
Main iPod menu
iPod menu Random Scan Audio settings ...