Shiftlock override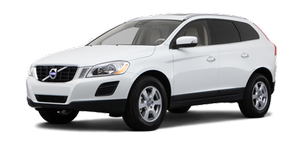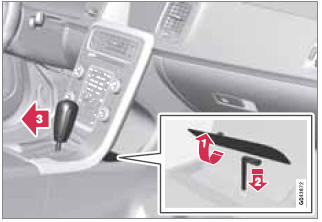 If the vehicle cannot be driven, for example because of a dead battery, the gear selector must be moved from the P position before the vehicle can be moved.
1 Lift away the rubber mat on the floor of the storage compartment behind the center console to expose the small opening for overriding the shiftlock system.
2 Insert the key blade into the opening. Press the key blade down as far as possible and keep it held down. Move the gear selector from the P position. For information on the key blade, see page 61.
See also:
Points to keep in mind
• Do not export your Volvo to another country before investigating that country's applicable safety and exhaust emission requirements. In some cases it may be difficult or impossible to comply ...
Tire sealing system–overview
Speed limit sticker On/Off switch Electrical wire Bottle holder (orange cover) Protective hose cover Air release knob Hose Bottle with sealing compound Air pressure gauge ...
Main FM1/FM2 menu
FM menu Show radio text Show presets Scan Advanced settings Reset all FM settings Audio settings ...