Trip odometers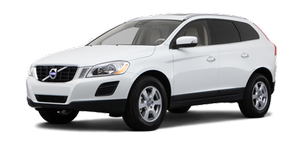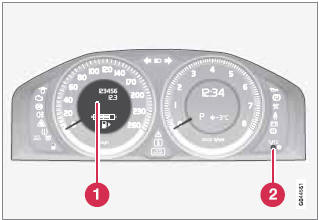 Trip odometers and reset button
1 Odometer display
2 Button for toggling between T1 and T2, and for resetting the odometer
The trip odometers are used to measure short distances. A short press the button toggles between the two trip odometers T1 and T2. A long press (more than 2 seconds) resets an active trip odometer to zero. The distance is shown in the display.
See also:
Symbols
Wear protection gogg See owner's manual for details Keep away from children Corrosive No smoking, no open flames, no sparks Explosion Recycle properly ...
Impact protection
The two front airbags are 'intelligent' and deploy in two stages according to the severity of the accident, alleviating the risk of facial injuries caused by the occupants' faces impacting with th ...
Towing vehicles with front wheel drive/All Wheel Drive
Volvo recommends the use of flat bed equipment. If wheel lift equipment must be used, please use extreme caution to help avoid damage to the vehicle. In this case, the vehicle should be towed wi ...