Music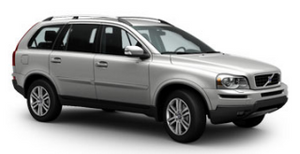 Listening to a music CD
1. Insert a CD into the RSE player's slot with the disc's label facing upward.
> The CD will begin to play automatically.
2. Switch on the cordless headphones and select CH A for the left screen or CH B for the right screen.
> This will direct the sound to the headphones.
3. Adjust the headphone volume by using the thumb wheel on the headphones.
To listen through the vehicle's audio system speakers, press MODE on the audio system control panel and select AUX.
Press

on the RSE remote to route the sound through the speakers.
Selecting a folder on the CD
1. Insert the CD in the player.
2. Press

.
3. Use the navigation buttons (the arrow keys surrounding the OK button on the RSE remote control) to highlight a folder and/or a specific track.
4. Press

to select a sub-folder.
Playback alternatives
The CD can be played in several different ways.
Use the navigation buttons to select one of the alternatives.
With the dialogue box displayed:
1. Press the right navigation button to access the menu to the right..
2. Use the navigation keys to select one of the alternatives.
3. Confirm your choice by pressing

.
Changing tracks on the CD
- Change tracks on the CD by pressing

. Hold the respective buttons down for fast forward or reverse.
Pause
1. Pause and restart the CD by pressing

.
2. Stop the CD by pressing

.
3. Press

again to eject the CD.
Home-burned CDs
CDs burned on a home computer can be played. However, the quality of the sound may be affected by the type of source file and format used, and by the condition of the disc.
See also:
Limitations
In certain situations, the BLIS indicator light(s) may illuminate even when there are no other vehicles in the area monitored by the system. NOTE If the BLIS indicator lights illuminate occasional ...
Parking brake
1 Parking brake pedal 2 Handle for releasing the parking brake The parking brake pedal is located under the dashboard, to the left of the brake pedal. NOTE The indicator light will light up eve ...
Extra high beam
1. Remove the headlight housing from the vehicle (see page 306). 2. Remove the cover over the bulbs (see page 308). 3. Remove the bulb by turning it counterclockwise and pulling it straight out. ...