SCAN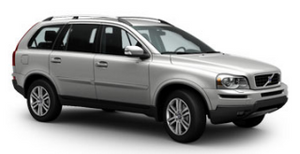 This function automatically searches the currently selected waveband (AM, FM1, or FM2) for strong stations. When the radio finds a station, it will pause for approximately 8 seconds, after which it will continue scanning.
Activating/deactivating Scan
1. Choose a waveband by pressing the AM/ FM button.
2. Press SCAN (2). SCAN will be shown in the display.
3. Press EXIT to stop scanning.
Storing a station found by SCAN
Stations can be stored on the preset buttons while the SCAN function is activated.
• Press a preset button and hold it down until Station stored is displayed.
This deactivates SCAN and the stored station can be selected by pressing the preset button.
See also:
Repairing stone chips
1. Place a strip of masking tape over the damaged surface. Pull the tape off so that any loose flakes of paint adhere to it. 2. Thoroughly mix the primer and apply it with a small brush. 3. ...
Crash mode
Driving after a collision If the vehicle has been involved in a collision, the text Safety mode See manual may appear in the information display. This indicates that the vehicle's functionali ...
General information
The infotainment system displays information in four different views. The highest (most general) level is called the main view and is common to all system modes (RADIO, MEDIA, TEL). Each mode has ...