Audio system overview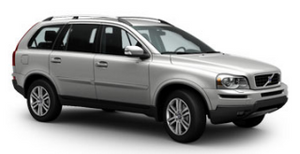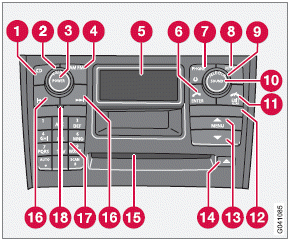 1 CD player
2 VOLUME Ц turn to adjust
3 POWER Ц On/Off
4 AM/FM Ц for switching between FM1, FM2 and AM
5 Display
6 ENTER Ц select in the menu or activate a selection
7 Not in use
8 MY KEY Ц programmable key for your favorite function from the menu
9 SELECTOR Ц select sound source
10 SOUND Ц make sound settings
11 EXIT/CLEAR Ц step back in the menu or cancel a selection
12 Not in use
13 MENU Ц menu selections/navigation
14 CD eject
15 CD slot, CD changer
16 search for and store the strongest radio stations in the area in which you are driving 17 Station preset buttons/selecct a disc in the CD changer (1-6)
18 IR Infrared port Ц for the optional navigation system remote control
See also:
Infotainment system overview
1 - Sockets for external audio sources (AUX and USB) 2 - Steering wheel keypad 3 - 7" display 4 - Center console control panel ...
Blocking access to the trunk
Normal locking/unlocking function Locking/unlocking points with valet locking activated By utilizing the remote key with the key blade removed, the valet locking feature enables you to block a ...
Volvo Sensus
Center console control panel 1 - Volvo Navigation System (VNS)* Ц NAV: see the separate VNS manual for operating instructions. 2 - Infotainment (RADIO, MEDIA, TEL*): see the infotainment system ...