Audio system overview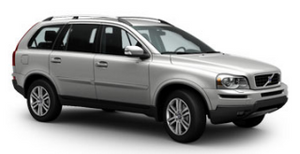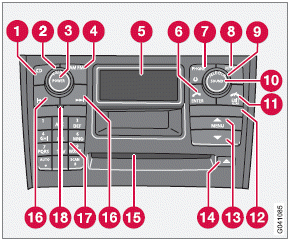 1 CD player
2 VOLUME Ц turn to adjust
3 POWER Ц On/Off
4 AM/FM Ц for switching between FM1, FM2 and AM
5 Display
6 ENTER Ц select in the menu or activate a selection
7 Not in use
8 MY KEY Ц programmable key for your favorite function from the menu
9 SELECTOR Ц select sound source
10 SOUND Ц make sound settings
11 EXIT/CLEAR Ц step back in the menu or cancel a selection
12 Not in use
13 MENU Ц menu selections/navigation
14 CD eject
15 CD slot, CD changer
16 search for and store the strongest radio stations in the area in which you are driving 17 Station preset buttons/selecct a disc in the CD changer (1-6)
18 IR Infrared port Ц for the optional navigation system remote control
See also:
Introduction
The HomeLink Wireless Control System provides a convenient way to replace up to three hand-held radio-frequency (RF) transmitters used to activate devices such as gate operators, garage door ...
Performance
The C70 doesn't compete with the BMW M3s and Chevrolet Corvettes of the convertible world. It's more subdued than that, even when you get the top-of-the-line engine and option package like we test ...
Sound settings
Call volume Call volume can be only be adjusted during a call. Use the buttons in the steering wheel keypad or the infotainment systemТs VOL control. Infotainment system volume If no phone call i ...