Replacing fuses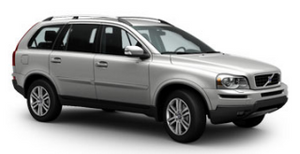 1 Relays/fuse box in the engine compartment
2 Fuse box in the passenger compartment, behind the plastic cover
3 Fuse box in the passenger compartment, on the edge of the dashboard
4 Fuse box in the cargo compartment
5 Fuse box in the cargo compartment1.
5 Additional fuses in cargo compartment (XC90 Executive)
If an electrical component fails to function, it is possible that a fuse has blown.
The fuse boxes are located in four different places, see the illustration above.
A label on the inside of each cover indicates the amperage and the electrical components that are connected to each fuse.
The easiest way to see if a fuse is blown is to remove it. Pull the fuse straight out. If a fuse is difficult to remove, you will find a special fuse removal tool (and several extra fuses) in the passenger compartment fuse box on the driver's end of dashboard. From the side, examine the curved metal wire (see the illustration) to see if it is broken. If so, put in a new fuse of the same color and amperage (written on the fuse). Spare fuses are stored in the fuse box in the engine compartment and the passenger compartment. If fuses burn out repeatedly, have the electrical system inspected by a trained and qualified Volvo service technician.
WARNING
Never use metal objects or fuses with higher amperage than those stated on the following pages. Doing so could seriously damage or overload the vehicle's electrical system.
See also:
Heated oxygen sensors
The heated oxygen sensors monitor the oxygen content of the exhaust gases. Readings are fed into a control module that continuously monitors engine functions and controls fuel injection. The r ...
Benefits of digital broadcasting
Better sound (FM sounds near CD quality and AM as analogue FM). Some FM frequencies offer a greater number of listening choices through "multicasting" (consisting of a frequency's main cha ...
RSE-AUX connectors and 12-voltsocket
The three color-coded (yellow-white-red) RSEAUX connectors can be used to connect an auxiliary device to the RSE system. Always follow the connection instructions provided with the auxiliary devic ...