Vehicle loading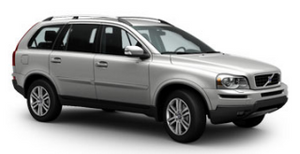 Properly loading your vehicle will provide maximum return of vehicle design performance.
Before loading your vehicle, familiarize yourself with the following terms for determining your vehicle's weight ratings, with or without a trailer, from the vehicle's Federal/ Canadian Motor Vehicle Safety Standards (FMVSS/ CMVSS) label, and the vehicle's tire information placard.
Curb weight
The weight of the vehicle including a full tank of fuel and all standard equipment. It does not include passengers, cargo, or optional equipment.
Capacity weight
All weight added to the curb weight, including cargo and optional equipment. When towing, trailer hitch tongue load is also part of cargo weight.
NOTE
For trailer towing information, please refer to the section "Towing a trailer."
Permissible axle weight
The maximum allowable weight that can be carried by a single axle (front or rear). These numbers are shown on the Federal/Canadian Motor Vehicle Safety Standards (FMVSS/ CMVSS) label. The total load on each axle must never exceed its maximum permissible weight.
Gross vehicle weight (GVW)
The vehicle's curb weight + cargo + passengers.
A table listing important weight limits for your vehicle, is in chapter "Dimension and weights".
For the location of the various labels in your vehicle.
Steps for Determining Correct Load Limit
Х Locate the statement "the combined weight of occupants and cargo should never exceed XXX pounds" on your vehicle's placard.
Х Determine the combined weight of the driver and passengers that will be riding in your vehicle.
Х Subtract the combined weight of the driver and passengers from XXX kilograms or XXX pounds.
Х The resulting figure equals the available amount of cargo and luggage load capacity. For example, if the "XXX" amount equals 1400 lbs. and there will be five 150 lb. passengers in your vehicle, the amount of available cargo and luggage load capacity is 650 lbs. (1400-750 (5 x 150) = 650 lbs.)
Х Determine the combined weight of luggage and cargo being loaded on the vehicle.
That weight may not safely exceed the available cargo and luggage load capacity calculated in Step 4.
Х If your vehicle will be towing a trailer, load from your trailer will be transferred to your vehicle. Consult this manual1 to determine how this reduces the available cargo and luggage load capacity of your vehicle.
WARNING
Х Exceeding the permissible axle weight, gross vehicle weight, or any other weight rating limits can cause tire overheating resulting in permanent deformation or catastrophic failure.
Х Do not use replacement tires with lower load carrying capacities than the tires that were original equipment on the vehicle because this will lower the vehicle's GVW rating. Use only tires with the correct load carrying capacity. Consult your Volvo retailer for information.
See also:
Lane Departure Warning (LDW)Ц introduction
This function is designed to help reduce the risk of accidents in situations where the vehicle leaves its lane and there is a risk of driving off the road or into the opposite lane. LDW consis ...
Trailer Stability Assist (TSA)
Trailer Stability Assist is a system designed to help stabilize a vehicle that is towing a trailer when the vehicle and trailer have begun to sway and is part of the Dynamic Stability and Trac ...
Power steering fluid reservoir
The fluid level should always be between the ADD and FULL marks. Fluid type: Volvo synthetic power steering fluid (Pentosin CHF 11S) P/N 1161529 or equivalent. Replace: No fluid change requi ...