Checking tire pressure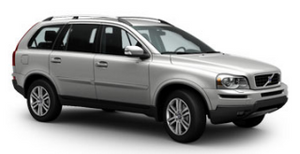 A certain amount of air seepage from the tires occurs naturally and tire pressure fluctuates with seasonal changes in temperature. Always check tire pressure regularly.
Cold tires
Inflation pressure should be checked when the tires are cold.
The tires are considered to be cold when they have the same temperature as the surrounding (ambient) air.
This temperature is normally reached after the vehicle has been parked for at least 3 hours.
After driving a distance of approximately 1 mile (1.6 km), the tires are considered to be hot. If you have to drive farther than this distance to pump your tire(s), check and record the tire pressure first and add the appropriate air pressure when you get to the pump.
If checking tire pressure when the tire is hot, never "bleed" or reduce air pressure. The tires are hot from driving and it is normal for pressures to increase above recommended cold pressures. A hot tire at or below recommended cold inflation pressure could be significantly under-inflated.
To check inflation pressure:
1. Remove the cap from the valve on one tire, then firmly press the tire gauge onto the valve.
2. Add air to reach the recommended air pressure.
3. Replace the valve cap.
4. Visually inspect the tires to make sure there are no nails or other objects embedded that could puncture the tire and cause an air leak.
5. Check the sidewalls to make sure there are no gouges, cuts, bulges or other irregularities.
6. Repeat this procedure for each tire, including the spare.
NOTE
• If you overfill the tire, release air by pushing on the metal stem in the center of the valve. Then recheck the pressure with your tire gauge.
• Some spare tires require higher inflation pressure than the other tires. Consult the tire inflation pressure table, see the inflation pressure placard.
See also:
Power steering fluid
Check the level frequently. The fluid does not require changing. The fluid level must be between the MIN and MAX marks. For capacities and recommended fluid grade, see page 341. WARNING I ...
Rear window and door mirror defrosters
Use the defroster to quickly remove fog and ice from the rear window and the door mirrors. Press the button once to start simultaneous rear window and door mirror defrosting. The light in the b ...
Sound settings
Call volume Call volume can be adjusted while a call is in progress using the buttons in the steering wheel keypad. Audio system volume When PHONE is displayed, volume for the audio system can be ...