Severe strain on the brake system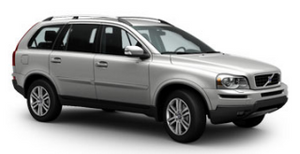 The brakes will be subject to severe strain when driving in mountains or hilly areas, or when towing a trailer. Vehicle speed is usually slower, which means that the cooling of the brakes is less efficient than when driving on level roads. To reduce the strain on the brakes, shift into a lower gear and let the engine help with the braking. Do not forget that, if you are towing a trailer, the brakes will be subjected to a greater than normal load.
See also:
Brake fluid reservoir
The brake fluid should always be above the MIN mark on the side of the reservoir. Check, without removing the cap, that there is sufficient fluid in the reservoir. Fluid type: DOT 4+ boiling poi ...
Additional fuses in the cargo compartment (XC90 Executive)
The fuses in the cargo area are located behind the panel on the driver's side of the cargo compartment. When replacing a blown fuse, be sure to replace it with a new one of the same color and ...
Living With the C30
You'd be forgiven for thinking "hatchback = practical," but that's not quite the case with the C30. Sure, it's more practical than a two-seat roadster, but this isn't a family car — unle ...