All Wheel Drive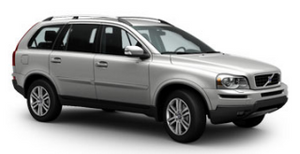 All Wheel Drive (AWD) – general information
Your Volvo can be equipped with an electronically controlled All Wheel Drive system, which means that power is distributed automatically between the front and rear wheels. Under normal driving conditions, most of the engine's power is directed to the front wheels. However, if there is any tendency for the front wheels to spin, an electronically controlled coupling distributes power to the wheels that have the best traction.
Tire dimensions
Volvo recommends that you always drive on tires of the same brand, size, construction (radial), tread pattern, load-, speed-, traction-, temperature-, and treadwear rating. Never drive on mixed tires, except for brief periods when the temporary spare tire is in use.
Always use properly inflated tires of correct dimensions. Tire size and inflation pressures are shown on the tire inflation pressure placards, located on the driver's side B-pillar (the structural member at the side of the vehicle, at the rear of the driver's door opening), or on the inside of the fuel filler door on Canadian models.
Temporary Spare
The temporary spare tire is for temporary, lowspeed, short-distance use only. Replace it with a full-sized tire as soon as possible. Do not drive on the temporary spare at speeds above 50 m.p.h. (80 km/h).
NOTE
Never install snow chains on a temporary spare.
See also:
Child safety
A passenger airbag cut off switch is available to enable a child seat to be carried in the front of the car, while, in the rear, Volvo has also paid special attention to child safety. Two integr ...
Temporary deactivation
The driver can temporarily deactivate cruise control by pressing 0. The saved speed is shown in brackets in the information display. ...
Re-installing the wheel
1. Clean the contact surfaces on the wheel and hub. 2. Lift the wheel and place it on the hub. Tighten the lug nuts 3. Install the wheel nuts and tighten handtight. Using the lug wrench, tight ...