Front seats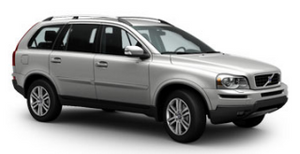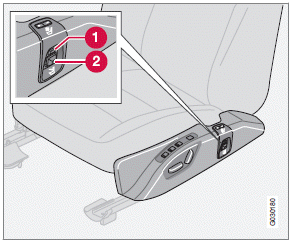 1 Massage
2 Lumbar support
Massage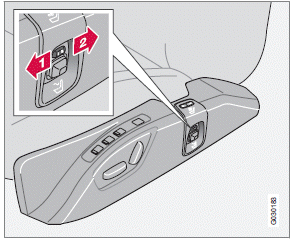 Massage control

Firm massage


Gentle massage
Each front seat has a massage function in its backrest. The massage action is done with air cushions, which can be adjusted to a firm or gentle setting. When the setting has been made, the massaging action is carried out in cycles as follows: massage 6 minutes – pause 4 minutes – massage 6 minutes, etc.
When the button is in the center position or if the ignition is in position 0, the massage function is switched off.
Lumbar support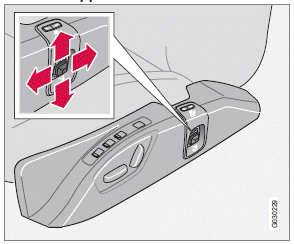 Lumbar support control
The lumbar support uses the same air cushions as the massage function. The button can be used to adjust the amount of support in four directions, as shown in the illustration.
Lumbar support can be only be adjusted when the massage function is switched off.
A memory function stores the lumbar support setting and this support will resume after the massage function has been switched off or after the vehicle has been parked for an extended period of time.
See also:
Driving distance on current fuel reserve
This function shows the approximate distance that can be driven on the fuel remaining in the tank. The calculation is based on average fuel consumption during the last 20 miles (30 km) of driv ...
Gauges
Gauges in the instrument panel 1 - Speedometer 2 - Fuel gauge. Please note that the fuel level indicator in the gauge moves from right to left as the amount of fuel in the tank decreases. The ar ...
License plate lighting
1. Remove the screws with a screwdriver. 2. Carefully detach the entire bulb housing and pull it out. 3. Replace the bulb. 4. Reinsert the entire bulb housing and tighten the screws. ...