Front seats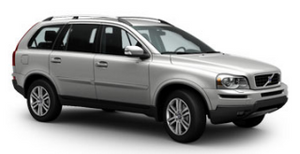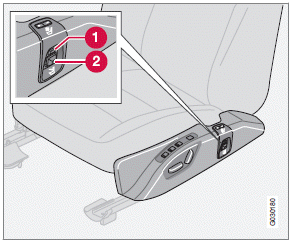 1 Massage
2 Lumbar support
Massage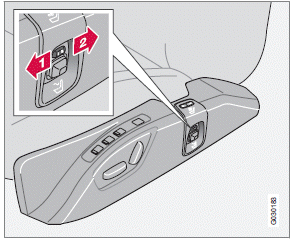 Massage control

Firm massage


Gentle massage
Each front seat has a massage function in its backrest. The massage action is done with air cushions, which can be adjusted to a firm or gentle setting. When the setting has been made, the massaging action is carried out in cycles as follows: massage 6 minutes – pause 4 minutes – massage 6 minutes, etc.
When the button is in the center position or if the ignition is in position 0, the massage function is switched off.
Lumbar support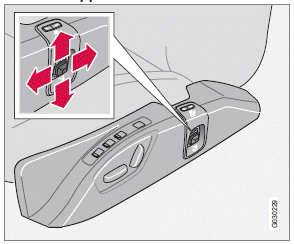 Lumbar support control
The lumbar support uses the same air cushions as the massage function. The button can be used to adjust the amount of support in four directions, as shown in the illustration.
Lumbar support can be only be adjusted when the massage function is switched off.
A memory function stores the lumbar support setting and this support will resume after the massage function has been switched off or after the vehicle has been parked for an extended period of time.
See also:
Blind Spot Information System
1 BLIS camera 2 Indicator light 3 BLIS symbol The Blind Spot Information System (BLIS) is an information system that indicates the presence of another vehicle moving in the same direction as y ...
Selecting a magnetic zone
Magnetic zones. The earth is divided into 15 magnetic zones. The correct zone must be selected for the compass to work correctly. 1. Put the ignition in mode II. 2. Using a pen or similar obje ...
Design concept
The Volvo S80 is a car that expresses a more dynamic evolution of Volvo's exterior design language. It's more sweeping, more elegant, tighter surfaced, and has a leaner and more agile look. &quo ...