Quality and Equipment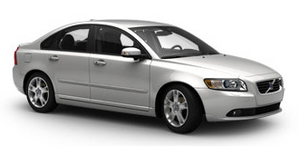 A passion for high quality lies at the heart of the Volvo brand. This is inherent not only in the build quality that reflects the ruggedness, durability and reliability for which Volvo is renowned, but also in the choice of body and trim materials. From the exquisite, free-floating centre instrument stack to the discreet 'theatre lighting', the Volvo S40 exudes a feeling of quality and well-being. The switchgear has a solid, chunky feel and the fascia is enveloped in soft-touch plastics, reminding occupants that they are enjoying a premium product.
Customers in the premium sector don't compromise. While they are happy to opt for a smaller overall package, they continue to expect a high level of standard equipment. Naturally, specifications for the Volvo S40 do not disappoint, especially when compared with some other premium brands. The specification of every model includes IDIS (Intelligent Driver Information System), alloy wheels, leather steering wheel, gear knob and handbrake lever, Electronic Climate Control, Air Quality System (AQS), Performance Sound audio system with CD, electric windows and (heated) mirrors, DSTC and all Volvo safety features.
The R-DESIGN SE Sport combines all the luxury features of the SE with the unique R-DESIGN interior details and the dramatic exterior bodykit and 18in alloy wheels.
Specification changes at the 2008 model year were extensive including a reprofiled nose and chrome framed 'egg-crate' grille, complete with a 50 per cent larger Volvo badge. This distinctive front flanked by new clear-lensed headlamp units, while a striking full-width air intake, incorporating reworked integral fog lamps and a central mesh section, replaced the previous three-part air intake unit.
At the rear, the S40's new tail light units - fitted with LED light emitting diode brake lights - are now smaller, with new graphics, and sit 30mm higher than previously. A new bumper and revised boot handle design as well as a more sporting exhaust pipe layout complete the visual makeover.
The cabin also benefited from a thorough revision to add more storage space and carrying versatility. The iconic 'floating' centre stack has revised controls and is complemented by a multi-function centre tunnel storage area, a more compact handbrake design, and a revised armrest that's longer and further forward for greater comfort. It can also flip through 180 degrees to act as a useful table for rear passengers. As well as redesigned cupholders, there's now a much larger storage area under the armrest, while the lower sections of the front door inside panels have been redesigned to accommodate larger items.
The 2009 model year saw the exterior emblem on the boot lid enlarge, with the letters spaced further apart to ensure that the Volvo brand is easier to spot from a distance.
Every S40 features IDIS (Intelligent Driver Information System). A motor industry first, IDIS uses technology derived from fighter aircraft. The IDIS function continuously analyses the driver's activity by monitoring steering wheel movements, the position of the accelerator pedal, the indicator function and so on. This information is then processed and each moment is assigned an activity level.
In certain circumstances the driver can make phone calls, read text messages (not while driving) and receive traffic information. But when the road conditions require their full concentration - such as when they are braking, overtaking or manoeuvring - all non-essential signals from the telephone and peripheral systems are withheld until the incident is past. IDIS is pre-programmed to accommodate future information and telematics communication systems. The more infotainment functions the car possesses, the greater the benefit of IDIS.
The sophisticated electronic networking that makes IDIS possible also allows owners to personalise their vehicle. For example, the Volvo's S40 central locking system can be programmed via the menu option on the centre stack to offer the following options:
Unlocking of doors - all doors or only the driver's door.
Automatic door locking after driving off for added personal safety, if required.
Indicators blink when locking or unlocking - with an option to cancel.
Home Safe and Approach lighting - variable by 30, 60 or 90-second intervals.
The system also allows the settings for the audio system to be customised - news and traffic alerts can be selected, for instance.
Customers can pick from a vast range of optional extras, and some are conveniently grouped together to offer better value, such as the Winter, Family and Communications packs:
Winter Pack: Heated front seats, headlamp cleaning system, luxury floor mats
Family Pack: Integrated booster cushions x 2, power child locks and sun curtain (rear shelf) and Passenger Airbag Cut Off Switch
Communications Pack: RTI Navigation System with RDS-TMC and Map Data on hard disk, Keyless Drive, Bluetooth Hands Free System
Hi-fi enthusiasts can upgrade to a Premium Sound system with Dolby Pro Logic II Surround SoundTM of the type introduced in the Volvo XC90. It includes a 1xCD, FM and AM radio, 5x130w amplifier, and no fewer than 12 speakers, as well as MP3/WMA compatibility and an auxiliary jack input to enable customers to connect personal MP3 players.
Volvo employs its own audio development team, rather than relying on an outside supplier, to ensure the audio systems are tailored to suit the acoustic properties of each model. As a result, all components have been tuned to produce the best possible surround sound everywhere in the car. Even rear occupants are able to hear the sensation of surround sound over the entire music frequency range.
The Dolby Pro Logic II system produces five unique sound channels. Listening to Surround Sound from the Premium Sound audio system is designed to be like sitting in the best seat in front of a live orchestra - you feel you are actually there.
An increasing number of customers will be interested in the RTI Satellite Navigation with RDS-TMC (Traffic Message Channel) which pre-warns of hold-ups and traffic incidents en route, and can re-route the driver, if required. For 2009 Model Year the RTI system gained a refresh including a new driver interface, new colours and a more premium feel to the menu and symbols.
The system uses a large, eye-level, remote-controlled colour screen that can display route information for the whole of Europe. It retracts into the top of the fascia when not in use and can be controlled using a joystick-style switch on the rear of the steering wheel, or by passengers with a remote control unit.
Already available is a bespoke, integrated telephone system, as is Volvo On Call, an advanced telematics system.
Volvo On Call - advanced telematics
Volvo On Call is a valuable personal safety feature using advanced telematics systems. The system uses an integrated GSM telephone with a built-in GPS unit for satellite positioning and ensures help is always close at hand.
Volvo On Call - safety package
Volvo On Call comes with a safety package. If an airbag or seat belt pre-tensioner is triggered in the event of an accident, Volvo On Call automatically calls the Emergency Services via BT999 and can also provide data of your location. Alternatively, pressing the red 'SOS' button on the integrated GSM telephone will put you straight through to the Emergency Services.
Also, if the car breaks down or you need help, pressing the Volvo On Call button will put you straight through to a Volvo On Call operator who is only a call away at any time of day to offer personal services such as route guidance, or to guide roadside assistance to you.
Volvo On Call - security package
An optional Volvo On Call security package offers the added benefits of a remote door unlock facility, theft notification and vehicle tracking. In the future, Volvo On Call's services could include automatically contacting your local dealer when a service is required.
See also:
Overview
The Volvo XC90 revolutionised the premium SUV market when it was launched in 2003. With its modern design, powerful engines, Roll-Over Protection System (ROPS) and seven-seat capability with up to ...
Air distribution
Air distribution The incoming air is distributed through the ventilation points in the passenger compartment shown above. Air vents in the dash A Open B Closed C Horizontal air flow D Vert ...
Environment
Volvo cares passionately about environmental protection, whether it's in reducing pollutants from its vehicles, or cutting pollutants entering the car. The well-being of people is at the core of e ...