Instrument overview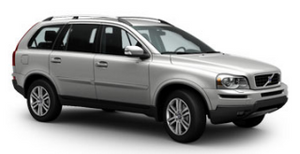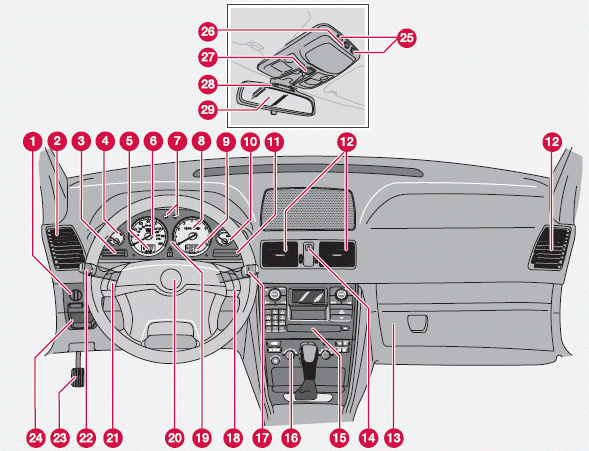 1 Headlights/Parking lights
2 Panel vents
3 Display
4 Temperature gauge
5 Odometer/Trip odometer/Cruise control indicator
6 Speedometer
7 Turn signal indicator lights
8 Tachometer
9 Ambient temperature gauge, clock, gear indicator
10 Fuel gauge
11 Indicator and warning symbols
12 Panel vents
13 Glove compartment
14 Hazard warning flashers
15 Audio system
16 Climate system controls
17 Windshield wiper/washer lever
18 Audio control buttons in steering wheel
19 Instrument panel
20 Horn
21 Cruise control buttons in steering wheel
22 Turn signals, High/low beams, READ-button
23 Parking brake pedal
24 Parking brake release handle
25 Reading lights
26 Courtesy light
27 Moonroof control
28 Seat belt reminder
29 Rearview mirror
Control panel in the driver's door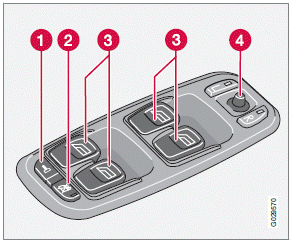 1 Central locking button
2 Lockout switch for rear seat power windows
3 Power window controls
4 Door mirror controls
See also:
Bluetooth® menus
1. Call register… 1.1. Last 10 missed calls 1.2. Last 10 received calls 1.3. Last 10 dialed calls 2. Call register… 2.1. Search 2.2. Copy fr. cell phone 3. Bluetooth… 3.1. Change phone 3. ...
How HD broadcasting works
HD Radio works similarly to conventional radio and broadcasts of this type are available in many areas of the United States. However, there are a few key differences: Instead of transmitting one ...
Connecting cell phones
The procedure for connecting a cell phone varies, depending on the phone itself and on whether or not the phone has been previously paired with the infotainment system (see page 231 for instru ...