Instrument overview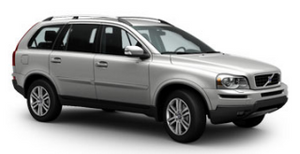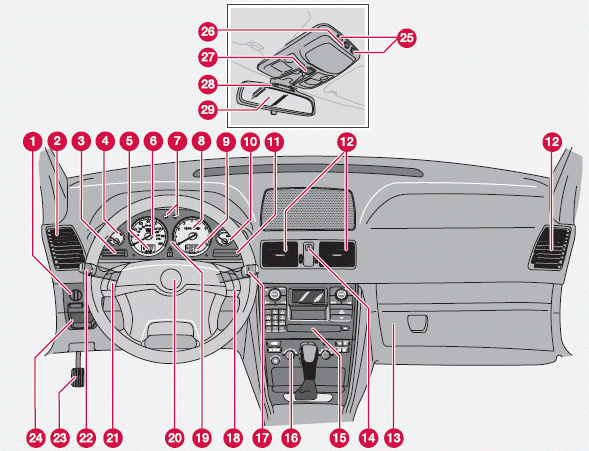 1 Headlights/Parking lights
2 Panel vents
3 Display
4 Temperature gauge
5 Odometer/Trip odometer/Cruise control indicator
6 Speedometer
7 Turn signal indicator lights
8 Tachometer
9 Ambient temperature gauge, clock, gear indicator
10 Fuel gauge
11 Indicator and warning symbols
12 Panel vents
13 Glove compartment
14 Hazard warning flashers
15 Audio system
16 Climate system controls
17 Windshield wiper/washer lever
18 Audio control buttons in steering wheel
19 Instrument panel
20 Horn
21 Cruise control buttons in steering wheel
22 Turn signals, High/low beams, READ-button
23 Parking brake pedal
24 Parking brake release handle
25 Reading lights
26 Courtesy light
27 Moonroof control
28 Seat belt reminder
29 Rearview mirror
Control panel in the driver's door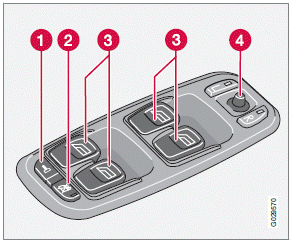 1 Central locking button
2 Lockout switch for rear seat power windows
3 Power window controls
4 Door mirror controls
See also:
Storing wheels and tires
When storing complete wheels (tires mounted on rims), they should be suspended off the floor or placed on their sides on the floor. Tires not mounted on rims should be stored on their sides or ...
License plate lights
1. Switch off the ignition. 2. Loosen the screws with a Torx screwdriver. 3. Turn the bulb holder counterclockwise and pull it out. 4. Pull out the defective bulb and insert a new one. 5. Rein ...
Warning light—driver braking required
Adaptive Cruise Control can exert brake force that is equivalent to approximately 40% of the vehicle's total braking capacity. In situations requiring more brake force than ACC can provide and ...