Seat belt use during pregnancy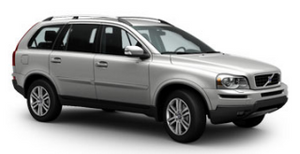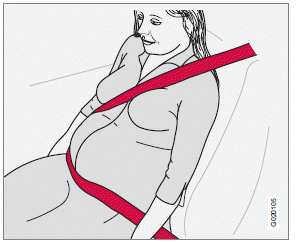 The seat belt should always be worn during pregnancy. But it is crucial that it be worn in the correct way. The diagonal section should wrap over the shoulder then be routed between the breasts and to the side of the belly. The lap section should lay flat over the thighs and as low as possible under the belly. It must never be allowed to ride upward. Remove all slack from the belt and insure that it fits close to the body without any twists.
As a pregnancy progresses, pregnant drivers should adjust their seats and steering wheel such that they can easily maintain control of the vehicle as they drive (which means they must be able to easily operate the foot pedals and steering wheel). Within this context, they should strive to position the seat with as large a distance as possible between their belly and the steering wheel.
Child seats
Please see page 38 for information on securing child seats with the seat belts.
Seat belt maintenance
Check periodically that the seat belts are in good condition. Use water and a mild detergent for cleaning. Check seat belt mechanism function as follows: attach the seat belt and pull rapidly on the strap.
See also:
Driving dynamics: engine
The second-generation, 2.4-litre, five-cylinder, diesel D5 is a cleaner and more advanced version of the engine fitted to the outgoing XC70. It gives superb performance (130mph) allied to fuel eco ...
ABS with EBD (Electronic Brake ForceDistribution)
EBD is an integrated part of the ABS system. EBD regulates the hydraulic pressure to the rear brakes to help provide optimal braking capacity. The brake pedal will pulsate during braking, which ...
Ambient lighting conditions
The camera automatically monitors the ambient lighting conditions behind the vehicle and constantly adjusts sensitivity to light. This may cause the brightness and quality of the image on the ...