Driving Impressions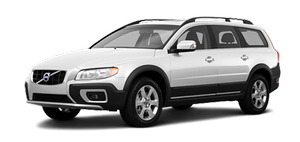 Serving as a thoroughly civilized, tightly constructed road machine, the XC70 cruises effortlessly. A touch on the gas pedal can make the car leap ahead, whether the driver is starting off from a standstill or is passing or merging.
Steering is on the heavy side, but it's not ponderous. Volvo's wagons are stable on the highway and corner well, but they can't be called snappy in urban driving. The XC70's firm suspension copes adeptly with bumps. Ride comfort is excellent on smooth roads. Even though you feel commotion on rough surfaces, not much is transmitted to the occupants.
See also:
Sensors
The sunlight sensor on the dashboard and passenger compartment temperature sensor in the ECC control panel should not be covered in any way as this could cause incorrect information to be sent to ...
Use of Additives
With the exception of gas line antifreeze during winter months, do not add solvents, thickeners, or other store-bought additives to your vehicle's fuel, cooling, or lubricating systems. Overus ...
Call volume
Call volume can be only be adjusted during a call. Use the buttons in the steering wheel keypad or the infotainment system's VOL control. ...