Attaching the towing eyelet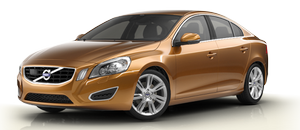 The towing eyelet is located under the floor of the trunk. This eyelet must be screwed into the positions provided on the right sides of either the front or rear bumper (see illustration).
There are two different types of covers over the openings for the towing eyelet and they have to be opened differently.

If the cover has a notch, insert a coin, etc., into the notch and pry open the edge of the cover. Open the cover completely and remove it.
If the cover has a mark along one edge or in a corner, press the mark while prying out the opposite side/corner using a coin, etc. Open the cover and remove it.
Screw the towing eyelet in place, first by hand and then using the tire iron until it is securely in place.
After the vehicle has been towed, the eyelet should be removed and returned to its storage location.
Press the cover for the attachment point back into position.

NOTE
On certain models equipped with a trailer hitch, the towing eyelet cannot be screwed into the hole in the rear bumper. The towing rope should be attached to the trailer hitch instead. For this reason, the detachable section of the trailer hitch should be safely stowed in the vehicle at all times.
CAUTION
If the vehicle is being towed on a flat bed truck, the towing eyelets must not be used to pull the vehicle up onto the flat bed.

WARNING
Remember that the power brakes and power steering will not function when engine is not running. The braking and steering systems will function but considerably higher pressure will be required on the brake pedal and greater steering effort must be exerted.
The towing eyelets must not be used for pulling the vehicle out of a ditch or for any similar purpose involving severe strain. Do not use the towing eyelets to pull the vehicle up onto a flat bed tow truck.
See also:
Snow tires, studded tires
Tires for winter use: Х Owners who live in or regularly commute through areas with sustained periods of snow or icy driving conditions are strongly advised to fit suitable winter tires to help re ...
Entering the third row of seats
Tilting the outboard backrests in the second row of seats: Х Pull up the handle (1), hold it up, and tilt the backrest forward to move the seat. Х Return the backrest to the upright position to ...
Keyless locking and unlocking
Range of the keyless drive remote keyЦ5 ft (1.5 meters) This system makes it possible to unlock and lock the vehicle without having to press any buttons on the Personal Car Communicators (PCC). I ...