Touching up paintwork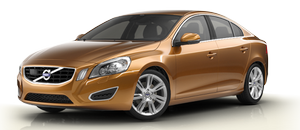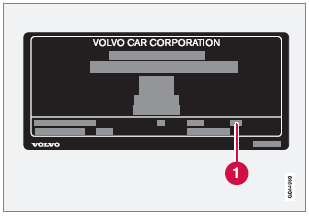 Paint code on the model plate
Paint damage requires immediate attention to avoid rusting. Make it a habit to check the finish regularly, for instance washing the vehicle. Touch-up if necessary.
Paint repairs require special equipment and skill. Contact your Volvo retailer for any extensive damage.
Minor scratches can be repaired by using Volvo touch-up paint.
Color code
Make sure you have the right color. The color code number is stated on the model plate.
Minor stone chips and scratches
Material:
Primer – can
Paint – touch-up pen
Brush
Masking tape
If the stone chip has not gone down to the bare metal and an undamaged color coat remains, you can add paint immediately after removing dirt.

NOTE
When touching up the vehicle, it should be clean and dry. The surface temperature should be above 60 °F (15 °C).
Minor scratches on the surface
If the stone chip has not penetrated down to the metal and an undamaged layer of paint remains, the touch-up paint can be applied as soon as the spot has been cleaned.
See also:
Seat belt use during pregnancy
Seat belt use during pregnancy The seat belt should always be worn during pregnancy. But it is crucial that it be worn in the correct way. The diagonal section should wrap over the shoulder t ...
General information
Adjusting the seat belt Seat belts should always be worn by all occupants of your vehicle. Children should be properly restrained, using an infant, car, or booster seat determined by age, wei ...
Storing wheels and tires
When storing complete wheels (tires mounted on rims), they should be suspended off the floor or placed on their sides on the floor. Tires not mounted on rims should be stored on their sides or sta ...