Owner maintenance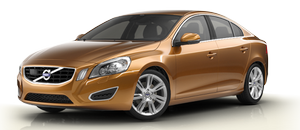 Periodic maintenance requirements and intervals are described in your vehicle's Warranty and Service Records Information booklet.
The following points can be carried out between the normally scheduled maintenance services.
Each time the car is refueled:
• Check the engine oil level. • Clean the windshield, windshield wipers, headlights, and taillights.
Monthly:
Check cold tire pressure in all tires. Inspect the tires for wear.
Check that engine coolant and other fluid levels are between the indicated "min" and "max" markings.
Clean interior glass surfaces with a glass cleaner and soft paper towels.
Wipe driver information displays with a soft cloth.
Visually inspect battery terminals for corrosion. Corrosion may indicate a loose terminal connector, or a battery near the end of its useful service life. Consult your Volvo retailer for additional information.
As needed:
Wash the car, including the undercarriage, to reduce wear that can be caused by a buildup of dirt, and corrosion that can be caused by salt residues.
Clean leaves and twigs from air intake vents at the base of the windshield, and from other places where they may collect.

NOTE
Complete service information for qualified technicians is available online for purchase or subscription at www.volvotechinfo.com.
See also:
Turning off (stopping) the alarm
If the alarm is sounding, it can be stopped by pressing the Unlock button on the remote key or by inserting the remote key in the ignition slot. Two short flashes from the car's direction indi ...
Radio text
This text provides information about the song that is currently playing. To turn this feature on or off, press OK/MENU and scroll to Show radio text and press OK/MENU to toggle between on or off. ...
Types of lists used in the manual
Procedures Procedures (step-by-step instructions), or actions that must be carried out in a certain order, are arranged in numbered lists in this manual. 1 If there is a series of illustration ...