Roof loads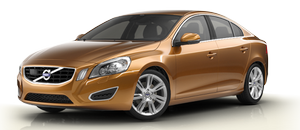 Using load carriers
Load carriers are available as Volvo accessories. Observe the following points when in use:
To avoid damaging your vehicle and to achieve maximum safety when driving, we recommend using the load carriers that Volvo has developed especially for your vehicle.
Volvo-approved removable roof racks are designed to carry the maximum allowable roof load for this vehicle: 220 lbs (100 kg). For non-Volvo roof racks, check the manufacturer's weight limits for the rack.
Never exceed the rack manufacturer's weigh limits and never exceed the maximum rated roof load of 220 lbs (100 kg).
Avoid single-point loads. Distribute loads evenly.
Place heavier cargo at the bottom of the load.
Secure the cargo correctly with appropriate tie-down equipment.
Check periodically that the load carriers and load are properly secured.
Remember that the vehicle's center of gravity and handling change when you carry a load on the roof.
The vehicle's wind resistance and fuel consumption will increase with the size of the load.
Drive smoothly. Avoid rapid starts, fast cornering and hard braking.
See also:
Exterior
Chief Designer Peter Horbury calls the XC90's appearance "masculine, but not macho; muscular, but not aggressive." At 188.9 inches long overall, the XC90 is 3.4 inches longer than Volvo's V70 wago ...
Deactivation
Move the gear selector from R to another position. There is a slight delay in the PAC system, which means that the view from behind the vehicle will remain on the screen for approximately 15 se ...
Tire sealing system–temporarily repairing a flat tire
Tire sealing system–temporarily repairing a flat tire Temporarily repairing a flat tire is done in two stages: • Stage 1: The hole is sealed by pumping sealing compound into the tire. The car ...