Opening/closing the fuel filler door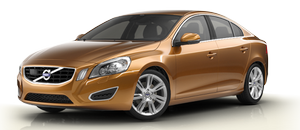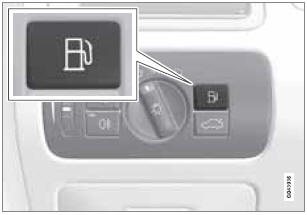 The fuel filler door is located on the right rear fender (indicated by an arrow beside the fuel tank symbol on the information display

)
With the ignition switched off, press and release the button on the lighting panel to unlock the fuel filler door. Please note that the fuel filler door will remain unlocked until the vehicle begins to move forward. An audible click will be heard when the fuel filler door relocks.
If you intend to leave your vehicle while it is being refueled, this feature enables you to lock the doors/trunk while leaving the fuel filler door unlocked.
You can also keep the vehicle locked if you remain inside it during refueling. The central locking button does not lock the fuel filler door.
Be sure the fuel filler door is not obstructed and is completely closed after refueling.
Open the fuel filler cap slowly during hot weather.
Close the fuel filler door by pressing it; a click indicates that it is closed.
CAUTION
• Avoid spilling gasoline during refueling. In addition to causing damage to the environment, gasolines containing alcohol can cause damage to painted surfaces, which may not be covered under the New Vehicle Limited Warranty.
See also:
SURROUND MODE
Surround sound settings are used to balance sound levels throughout the vehicle. Surround settings for the various sound sources are made separately. There are three settings for surround sound. ...
Storing stations
To store a selected station under one of the station setting buttons 0 – 9 (2): 1. Set the desired station. 2. Press the button under which the station is to be stored and keep it depressed. The ...
Checking tire pressure
Cold tires Inflation pressure should be checked when the tires are cold. The tires are considered to be cold when they have the same temperature as the surrounding (ambient) air. This temperature ...