Unlocking the doors with the detached key blade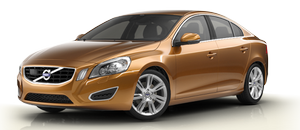 Insert the key blade as far as possible in the driver's door lock. Turn the key blade clockwise approximately one-quarter turn to unlock the driver's door only.

NOTE
After unlocking the driver's door with the key blade, opening the door will trigger the alarm.
To disable the alarm:
Insert the remote key in the ignition slot. This also applies to vehicles equipped with the optional keyless drive.
See also:
Installing the steel cargo grid
For information about the necessary tools and procedures for installing/removing the steel cargo grid, please refer to the assembly instructions that were included when the grid was purchased. ...
Power steering fluid reservoir
The fluid level should always be between the ADD and FULL marks. Fluid type: Volvo synthetic power steering fluid (Pentosin CHF 11S) P/N 1161529 or equivalent. Replace: No fluid change requi ...
Sound settings
Call volume Call volume can be only be adjusted during a call. Use the buttons in the steering wheel keypad or the infotainment system's VOL control. Infotainment system volume If no phone call i ...