Installation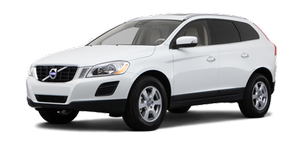 1. Lower the battery into the battery box.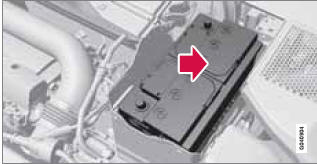 2. Move the battery inward and to the side until it reaches the rear edge of the box.
3. Tighten the clamp that secures the battery.
4. Connect the ventilation hose.
> Be sure that it is correctly connected to the battery and the vent in the vehicle's body.
5. Connect the red positive cable.
6. Connect the black negative cable.
7. Press in the rear cover. (See Removal).
8. Reinstall the molding. (See Removal).
9. Reinstall the front cover and secure it with the clips. (See Removal).
See also:
Unleaded fuel
Each Volvo has a three-way catalytic converter and must use only unleaded gasoline. U.S. and Canadian regulations require that pumps delivering unleaded gasoline be labeled "UNLEADED". O ...
Child safety locks
Child safety locks – rear doors The controls are located on the rear door jambs. Use the remote control's key blade or a screwdriver to adjust these controls. A The rear doors can only be op ...
Steering wheel adjustment
Both the height and the reach of the steering wheel can be adjusted to a comfortable position for the driver. Pull down the lever on the left of the steering column. Adjust the steering wheel to ...