Re-installing the wheel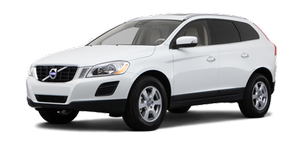 1. Clean the contact surfaces on the wheel and hub.
2. Lift the wheel and place it on the hub.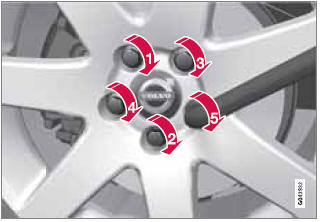 Tighten the lug nuts
3. Install the wheel nuts and tighten handtight.
Using the lug wrench, tighten crosswise until all nuts are snug.
4. Lower the vehicle to the ground and alternately tighten the bolts crosswise to 103 ft. lbs. (140 Nm).
5. Install the wheel cover (where applicable).
The opening in the wheel cover for the tire's inflation valve must be positioned over the valve.
See also:
Scroll/search forward and back
Press briefly on (2) to scroll between CD tracks/ audio files or to search for the next available radio station. ...
Replacing the high beam bulb (halogenheadlights)
1. Remove the rubber cover by pulling it off. 2. Pull the connector from the lamp housing. 3. Loosen the bulb's retaining spring by first moving it to the right and then moving it out of the way ...