Use of Additives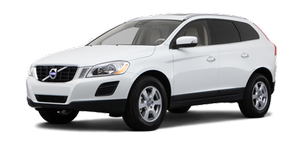 With the exception of gas line antifreeze during winter months, do not add solvents, thickeners, or other store-bought additives to your vehicle's fuel, cooling, or lubricating systems.
Overuse may damage your engine, and some of these additives contain organically volatile chemicals. Do not needlessly expose yourself to these chemicals.
WARNING
Never carry a cell phone that is switched on while refueling your vehicle. If the phone rings, this may cause a spark that could ignite gasoline fumes, resulting in fire and injury.
WARNING
Carbon monoxide is a poisonous, colorless, and odorless gas. It is present in all exhaust gases. If you ever smell exhaust fumes inside the vehicle, make sure the passenger compartment is ventilated, and immediately return the vehicle to a trained and qualified Volvo service technician for correction.
See also:
Audible signal
The Park Assist system uses an intermittent tone that pulses faster as you come close to an object, and becomes constant when you are within approximately 1 ft (30 cm) of an object in front of or ...
External audio source volume
If an external devices such as an MP3 player or an iPod is connected to the AUX socket, the device's volume may be different from the volume of the internal sound sources such as the disc play ...
Anti-lock brakes (ABS)
If the ABS warning lamp lights up there is a malfunction in the ABS system (the standard braking system will however function) and the vehicle should be driven cautiously to a trained and qualifie ...