Unleaded fuel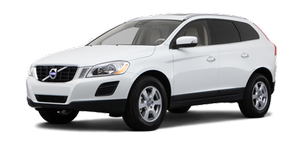 Each Volvo has a three-way catalytic converter and must use only unleaded gasoline. U.S. and Canadian regulations require that pumps delivering unleaded gasoline be labeled "UNLEADED".
Only these pumps have nozzles which fit your vehicle's filler inlet. It is unlawful to dispense leaded fuel into a vehicle labelled "unleaded gasoline only". Leaded gasoline damages the three-way catalytic converter and the heated oxygen sensor system. Repeated use of leaded gasoline will lessen the effectiveness of the emission control system and could result in loss of emission warranty coverage.
State and local vehicle inspection programs will make detection of misfueling easier, possibly resulting in emission test failure for misfueled vehicles.
NOTE
Some U.S. and Canadian gasolines contain an octane enhancing additive called methylcyclopentadienyl manganese tricarbonyl (MMT). If such fuels are used, your Emission Control System performance may be affected, and the Check Engine Light (malfunction indicator light) located on your instrument panel may light. If this occurs, please return your vehicle to a trained and qualified Volvo service technician for service.
See also:
Temporary spare
The spare tire in your vehicle1 is called a "Temporary Spare". Recommended tire pressure (see the placard on the B-pillar or on the fuel filler door) should be maintained irrespective ...
Automatic answer
This function means that incoming calls will be answered automatically. Activate or deactivate the function in the menu system under Phone menu Call options Auto answer. ...
Child seats
Please refer to page 42 for information on securing child seats with the seat belts. ...