Unleaded fuel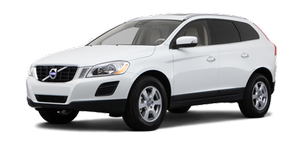 Each Volvo has a three-way catalytic converter and must use only unleaded gasoline. U.S. and Canadian regulations require that pumps delivering unleaded gasoline be labeled "UNLEADED".
Only these pumps have nozzles which fit your vehicle's filler inlet. It is unlawful to dispense leaded fuel into a vehicle labelled "unleaded gasoline only". Leaded gasoline damages the three-way catalytic converter and the heated oxygen sensor system. Repeated use of leaded gasoline will lessen the effectiveness of the emission control system and could result in loss of emission warranty coverage.
State and local vehicle inspection programs will make detection of misfueling easier, possibly resulting in emission test failure for misfueled vehicles.
NOTE
Some U.S. and Canadian gasolines contain an octane enhancing additive called methylcyclopentadienyl manganese tricarbonyl (MMT). If such fuels are used, your Emission Control System performance may be affected, and the Check Engine Light (malfunction indicator light) located on your instrument panel may light. If this occurs, please return your vehicle to a trained and qualified Volvo service technician for service.
See also:
Behind the wheel
Driving the XC70's turbocharged 3.0-liter V-6 took some getting used to. I appreciated the surprisingly zippy kick-in-the-pants feel, as opposed to the sluggishly heavy acceleration I anticipated ...
Tire sealing system–overview
1 Speed limit sticker 2 On/Off switch 3 Electrical wire 4 Bottle holder (orange cover) 5 Protective hose cover 6 Air release knob 7 Hose 8 Bottle with sealing compound 9 Air pressure gauge ...
Cleaning the sensors
Location of the front sensors Location of the rear sensors The sensors must be cleaned regularly to ensure that they work properly. Clean them with water and a suitable car washing detergent. ...