Before a long distance trip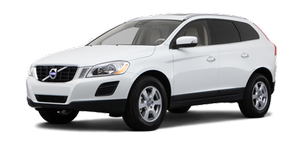 It is always worthwhile to have your vehicle checked by a trained and qualified Volvo service technician before driving long distances.
Your retailer will also be able to supply you with bulbs, fuses, spark plugs and wiper blades for your use in the event that problems occur.
As a minimum, the following items should be checked before any long trip:
Х Check that engine runs smoothly and that fuel consumption is normal.
Х Check for fuel, oil, and fluid leakage.
Х Have the transmission oil level checked.
Х Check condition of drive belts.
Х Check state of the battery's charge.
Х Examine tires carefully (the spare tire as well), and replace those that are worn.
Check tire pressures.
Х The brakes, front wheel alignment, and steering gear should be checked by a trained and qualified Volvo service technician only.
Х Check all lights, including high beams.
Х Reflective warning triangles are legally required in some states/provinces.
Х Have a word with a trained and qualified Volvo service technician if you intend to drive in countries where it may be difficult to obtain the correct fuel.
Х Consider your destination. If you will be driving through an area where snow or ice are likely to occur, consider snow tires.
See also:
Function
The driver sees what is behind the vehicle and if a person or animal should suddenly appear from the side. PAC is mounted on the rear of the trunk lid, near the opening handle. The camera has bu ...
From inside the vehicle (central locking button)
Central locking button The lock buttons on the door panel can be used to lock or unlock all doors and the trunk at the same time. Press to lock and to unlock. Unlocking The vehicle can be u ...
Installation
1. Lower the battery into the battery box. 2. Move the battery inward and to the side until it reaches the rear edge of the box. 3. Tighten the clamp that secures the battery. 4. Connect the ve ...