Introduction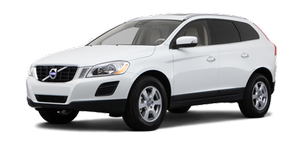 Distance Alert is part of Adaptive Cruise Control and is a function that provides information about the time interval to the vehicle ahead.
Distance Alert is active at speeds above approximately 18 mph (30 km/h). Time interval information is only given for a vehicle that is driving ahead of your vehicle in the same direction.
No information is provided for vehicles driving toward you, moving very slowly, or at a standstill.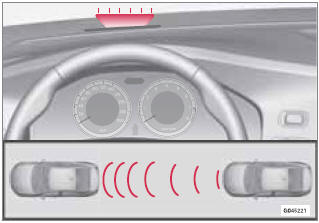 Amber warning light
An amber warning light in the windshield glows steadily if your vehicle is closer to the one ahead than the set time interval.
NOTE
Distance Alert only monitors distance to the vehicle ahead while Adaptive Cruise Control is in standby mode or off.
WARNING
Distance Alert only indicates the distance to the vehicle ahead. It does not affect the speed of your vehicle.
See also:
Audible signal
The Park Assist system uses an intermittent tone that pulses faster as you come close to an object, and becomes constant when you are within approximately 1 ft (30 cm) of an object in front of or ...
Steep inclines and/or heavy loads
ACC is primarily intended for use on fairly level roads. The system may have difficulty maintaining the correct distance to a vehicle ahead on steep inclines, if the vehicle is carrying a heavy lo ...
DRIVING DYNAMICS: POWERTRAINS
All C30s are front-wheel drive, with the transverse engine design improving space efficiency. It also improves safety by creating a generous crumple zone in the engine compartment. The five-cylinder ...