Polishing and waxing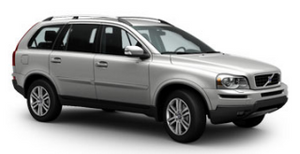 Х Normally, polishing is not required during the first year after delivery, however, waxing may be beneficial.
Х Before applying polish or wax the vehicle must be washed and dried. Tar spots can be removed with kerosene or tar remover.
Difficult spots may require a fine rubbing compound.
Х After polishing use liquid or paste wax.
Х Several commercially available products contain both polish and wax.
Х Waxing alone does not substitute for polishing a dull surface.
Х A wide range of polymer-based car waxes can be purchased today. These waxes are easy to use and produce a long-lasting, high-gloss finish that protects the bodywork against oxidation, road dirt and fading.
Х Do not polish or wax your vehicle in direct sunlight (the surface of the vehicle should not be warmer than 113∞ F (45∞ C).
CAUTION
Volvo does not recommend the use of longlife or durable paint protection coatings, some of which may claim to prevent pitting, fading, oxidation, etc. These coatings have not been tested by Volvo for compatibility with your vehicle's clear coat. Some of them may cause the clear coat to soften, crack, or cloud. Damage caused by application of paint protection coatings may not be covered under your vehicle's paint warranty.
See also:
Tailgate wiper blade
To change a tailgate wiper blade: 1. Pull the wiper arm rearward, away from the tailgate window. 2. Pull out the wiper blade as shown in the illustration. 3. Press the new wiper blade into pl ...
Maintenance
Х Use a screw driver to open the caps or cover and a flashlight to inspect the level. Х If necessary, add distilled water. The level should never be above the indicator. Х The fluid level should ...
Rear fog light
1. Switch off the ignition. 2. Carefully insert a small screwdriver (see illustration above). 3. Pry out the lamp housing. 4. Turn the bulb holder counterclockwise and remove it. 5. Turn the b ...