2009 Volvo S80 Review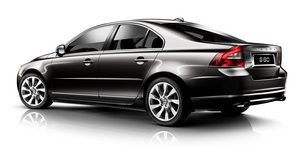 The Volvo S80 was significantly redesigned for 2007, so it had been on the market only six months when the 2008 model arrived. The only significant change is a new engine option: a smooth and powerful turbocharged six-cylinder producing 281 horsepower.
I tested the new engine in a model with very few options and walked away convinced that the T6 trim on which it's found — which starts at $42,045 — is the best buy of the lineup, providing as many or more driving thrills than the more-expensive V-8. I reviewed the 2007 model earlier this year, and since then nothing has changed my opinion that this is the best Volvo to date. The new turbo engine only adds to the S80's impressive value statement in its class.
See also:
Guiding lines
The lines on the screen are projected as if they were a path on the ground behind the vehicle and are affected by the way in which the steering wheel is turned. This enables the driver to see pa ...
Introduction
The load carrying capacity of your vehicle is determined by factors such as the number of passengers, the amount of cargo, the weight of any accessories that may be installed, etc. To increase ...
Design concept
At the front, the traditional Volvo V-shaped bonnet incorporates a grille with a wide chrome surround and three-dimensional mesh inserts, plus a large Volvo 'iron mark' badge. The front bumper has ...