The Looks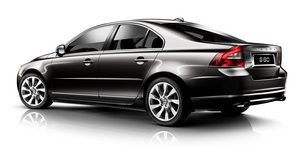 The improvements over the previous generation are of course most noticeable by simply looking at the S80. I wouldn't call it striking, but it is handsome — bordering on the masculine, yet still able to appeal to the most feminine of moms.
The sculpted body mimics other recently redesigned Volvos, but the S80 uses the technique to its best effect to date. The headlights are more angled than ever before; it's a subtle difference, but one that adds to the overall appearance. The rear is still dull as a doornail, though.
Inside, however, the S80 wins absolute raves. There are three things the interior has going for it:
1. Actual design: The dash flows into the instrument panel, creating an organic wave. The gauges are real metal with electronic readouts in the center, and the analog needles run on an inner ring. Even the turn-signal arrows fit into an arrow-shaped cutout in the gauge cluster.
2. Ergonomically simple: The S80 has buttons. Lots of them. They allow you to turn on the air, stereo, safety features and more with a simple push; there are no complicated menus for simple tasks, just buttons. Oh, the brilliance. The buttons are housed on Volvo's trademark floating center stack, another nice design touch.
3. High quality: Unlike other Volvos, the flagship S80 is a real luxury car. The materials are all soft to the touch, the leather is plush and the seats are ultra comfortable. What's left to want?
OK, it could have a bit more room in the backseat, but the space isn't what you'd call confining. The small trunk was a bit of a surprise, however; it's not exactly deep or tall, so large suitcases have to be wedged in tightly. I'm an infrequent golfer, but I don't think I would be able to get more than two full-size bags in there without folding the rear seats, which wouldn't leave room for a foursome.
See also:
Exterior lighting
Condensation may form temporarily on the inside of the lenses of exterior lights such as headlights, fog lights, or taillights. This is normal and the lights are designed to withstand moisture ...
Fuses in the cargo compartment
The fuses in the cargo area are located behind the panel on the driver's side of the cargo compartment. When replacing a blown fuse, be sure to replace it with a new one of the same color and ...
Air vents in the door pillars
A - Closed B - Open C - Horizontal airflow D - Vertical airflow Direct the outer air vents toward the side windows to defrost. Direct the vents into the passenger compartment to help maintain t ...