Security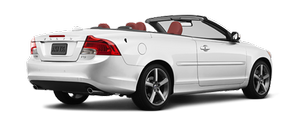 Volvo is committed to protecting the car, its occupants and their possessions.
The use of a hard-top rather than a soft-top convertible roof obviously improves security. Roof-up, the new Volvo C70 offers similar security to a premium coupe or saloon. Every model features an anti-theft alarm including immobiliser. The alarm even reacts to movement inside the car or a broken window, roof up or down. The alarm can also be activated by your hand-held remote control, should an emergency arise on your way to or from the car.
You can close or open all windows simultaneously and the door locks can be set to lock automatically when you drive away.
To illuminate your passage to and from the Volvo C70 at night, the car and its immediate environment can be lit up using the car's remote control. With the ground lighting in the door mirrors, the pool of light around the car is further extended.
The 'Volvo On Call' system is an advanced telematics programme that uses the integrated mobile phone and the built-in GPS satellite unit to ensure help is at hand. If an airbag is deployed in an accident, the Volvo On Call system automatically rings the emergency services. The satellite tells of your precise location even if the driver is unable to. Pressing the red SOS button on the integrated phone puts you straight through to the emergency services. If the car breaks down, the 'Volvo On call' button puts you straight through to a Volvo operator. Vehicle tracking is also available.
See also:
Vehicle loading
Loads Properly loading your vehicle will provide maximum return of vehicle design performance. Before loading your vehicle, familiarize yourself with the following terms for determining your v ...
Paint touch up
Model plate with paint color code Paint damage requires immediate attention to avoid rusting. Make it a habit to check the finish regularly – when washing the vehicle for instance. Touch-up if n ...
Checking tire pressure
Cold tires Inflation pressure should be checked when the tires are cold. The tires are considered to be cold when they have the same temperature as the surrounding (ambient) air. This temperature ...