Rollover Protection System (ROPS)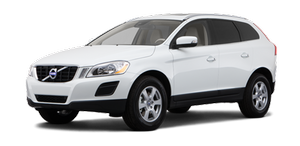 Volvo's Rollover Protection System utilizes the Roll Stability Control (RSC) function, which is designed to help minimize the risk of a rollover in emergency maneuvers or if a skid should occur.
RSC uses a gyroscopic sensor that registers the amount of change in the lateral angle at which the vehicle is leaning. Using this information, RSC calculates the likelihood of a rollover.
If there is an imminent risk of a rollover, the Dynamic Stability and Traction Control system (DSTC) is activated, power to the engine is cut and the brakes are applied to one or more of the wheels until the vehicle regains stability.
For additional information on DSTC, see page 149.
WARNING
The vehicle's stability systems, including ROPS and RSC, do not replace the driver's responsibility for operating the vehicle in a safe manner. Speed and driving style should always be adapted to the current road, traffic and weather conditions. Posted speed limits should always be respected.
See also:
Active Bending Lights (ABL)*
Headlight pattern with the Active Bending Light function deactivated (left) and activated (right) When this function is activated, the headlight beams adjust laterally to help light up a curve ...
High-quality audio
Volvo employs its own audio development team, rather than relying on an outside supplier. This ensures the audio systems are tailored to suit the acoustic properties of each model. The standard, ...
Steering wheel keypad
The keypad varies according to the vehicle's equipment 1 - Turn the thumb wheel to go up/down among menu selections. Press the thumb wheel to make a selection or store a function in the syste ...