The Moves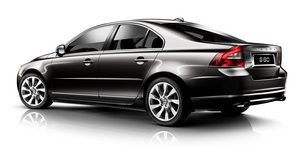 While the interior is the S80's standout area, the driver's digs were never the old model's main fault Ч a lackluster driving experience was. The S80's optional V-8 engine adds some excitement, making 311 hp and 325 pounds-feet of torque. That power comes early when the gas pedal gets pushed, and it even makes a healthy little growl. That's not very Volvo at all, and will probably be what car shoppers notice most about this model's performance. The S80 comes standard with an inline-six-cylinder that makes an incredibly less-sexy-sounding 235 hp and 236 pounds-feet of torque. I won't say that the price bump of nearly $11,000 to move from the front-wheel-drive inline-six to the all-wheel-drive V-8 is insignificant, but even with a starting price of $49,210, the V-8 sounds like a value.
That's why it's a happy surprise that Volvo would roll out a third engine choice for its new flagship sedan; what's even more surprising is the turbo's exciting driving feel. While the V-8 has some grunt off the line, the T6 delivers smooth power, especially at highway passing speeds. Steering is just as smooth. It's not as pinpoint precise as a BMW's, but Volvo drivers aren't looking for the ultimate driving machine, they want a safe car that can pass on demand and has a comfortable ride. The S80 delivers an almost perfect blend of comfort and performance.
It may seem strange, but from a driving-thrills standpoint, there's no reason for anyone to move up to the V-8. Not only is the T6 $7,000 less than the V-8, it's just a better driving car.
Like most Volvos, the S80's steering is still floaty compared to almost every other luxury car on the market, and even with all-wheel drive this thing doesn't take tightly curved off-ramps like a sports sedan.
In the pothole-heaven known as Chicago, an adaptive suspension like the one offered on the 2007 V-8 I tested in March sounds like a great idea. It's part of a $2,495 sport package that also includes speed-sensitive steering, 18-inch wheels, xenon headlights and ventilated front seats. What did the adaptive suspension do? In theory, each of the three settings Ч Comfort, Sport and Advanced Ч are supposed to adjust the suspension to deliver a different driving feel depending on the driving surface and situation.
Volvo could've fooled me. Neither the Sport nor the Advanced setting did much to change my opinion of the car's virtue as a performer. After playing around with the settings for the better part of two days, I resigned myself to Comfort because that's what the car delivered best. I certainly didn't miss the system when I drove a 2008 version that didn't come with it equipped. I can now definitively say it is unnecessary.
See also:
Infant seats
Securing an infant seat with a seat belt Do not place the infant seat in the front passenger's sea NOTE Refer to page 48 and page 50 for information on securing a child restraint using ISOFIX/ ...
Vehicle event data (Black box)
Your vehicle's driving and safety systems employ computers that monitor, and share with each other, information about your vehicle's operation. One or more of these computers may store what th ...
Dimensions
Dimensions ...