S80 in the Market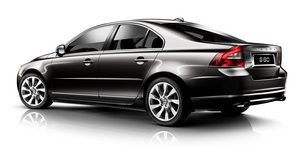 The market for a large luxury sedan from Volvo has always been hampered by the fact that the people car buyers want to protect most are their family, and families often opt for wagons and SUVs. That's why Volvo also launched redesigned, S80-based V70 and XC70 wagons this year. The sedan is usually the executive car, and until now there's been no overwhelming reason for today's choosy executive to even consider the S80.
Now, the sedan buyer who wants high-minded interior design and extreme safety over performance can look at the new S80 as a sensible alternative. The 2007 S80 V-8 I tested had a price of $56,025, with so many bells and whistles in addition to its V-8 engine that it's a darn good buy; its BMW and Mercedes counterparts are more expensive even when equipped with six-cylinder engines. Now, with the addition of the T6 trim, I'll unequivocally recommend that version for $42,045. My test vehicle didn't have any extra add-ons, and it never felt under-equipped. With that version, buyers will still have a good $10,000 more in their pockets than their neighbors in a 5 Series or E-Class. There are still Volvo's low reliability scores to worry about, and with this much technology crammed into a car there's even more that could go wrong. Yet the fact remains that after testing multiple versions of the S80 over the past year, I'm convinced that Volvo knows how to make cars that are more than just safe.
See also:
Active Bending Lights (ABL)
When this function is activated, the headlight beams adjust laterally to help light up a curve according to movements of the steering wheel (see the right-pointing beam in the illustration). The ...
Main CD Audio menu
Disc menu Random Scan Audio settings ...
Washing
• The vehicle should be washed at regular intervals since dirt, dust, insects and tar spots adhere to the paint and may cause damage. It is particularly important to wash the vehicle frequently in ...