Blower control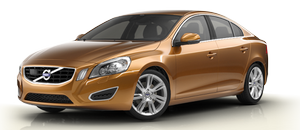 Turn the control clockwise to increase or counterclockwise to decrease the blower speed. If AUTO is selected, blower speed will be regulated automatically and this will override manual adjustment.

NOTE
If the blower is turned off completely, the air conditioning is disengaged, which may result in fogging on the windows.
See also:
Tire sealing system–temporarily repairing a flat tire
Tire sealing system–temporarily repairing a flat tire Temporarily repairing a flat tire is done in two stages: • Stage 1: The hole is sealed by pumping sealing compound into the tire. The car ...
Power steering fluid reservoir
The fluid level should always be between the ADD and FULL marks. Fluid type: Volvo synthetic power steering fluid (Pentosin CHF 11S) P/N 1161529 or equivalent. Replace: No fluid change requi ...
Air distribution
The incoming air is distributed from a number of different vents in the passenger compartment. Air distribution is fully automatic in AUTO mode. If desired, air distribution can be controlled ...