Range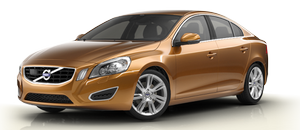 The PCC's lock and unlock functions have a range of approximately 60 ft. (20 m) from the vehicle.

NOTE
The approach lighting, panic alarm, and the functions controlled by the information button have a range of approximately 300 ft (100 m) from the vehicle.
Radio waves, buildings or other obstacles may interfere with the function of the PCC.
If the vehicle does not provide confirmation when a button has been pressed, try moving closer and pressing the button again.
Outside of the PCC´s range
If the PCC is more than approximately 300 ft (100 m) from the vehicle when the information button is pressed, no new information will be received. The PCC most recently used to lock or unlock the vehicle will show the vehicle's most recently received status. The indicator lights will not flash when the information button is pressed while the PCC is out of range. If more than one PCC is used to lock/unlock the vehicle, only the one used most recently will show the correct locking status.

NOTE
If none of the indicator lights illuminate when the information button is pressed, this may be because the most recent transmission between the vehicle and the PCC was interrupted or impeded by buildings or other objects.
See also:
Introduction
Volvo advises you to follow the maintenance program outlined in the Warranty and Service Records Information booklet. This maintenance program contains inspections and services necessary for t ...
Precautions when the vehicle is being towed
Attach jumper cables (see page 116) to provide current for releasing the electric parking brake and to move the gear selector from the P position to N. Be sure that the steering wheel lock ...
Steep inclines and/or heavy loads
ACC is primarily intended for use on fairly level roads. The system may have difficulty maintaining the correct distance to a vehicle ahead on steep inclines, if the vehicle is carrying a heavy lo ...