Engines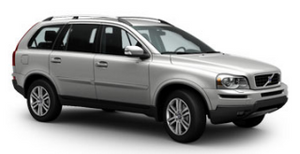 The Volvo XC90 is available with a choice of two high-performance engines - one diesel and one petrol - both of which produce plenty of power and torque from low engine speeds and through the mid-range for maximum flexibility and driving pleasure.
3.2
The six-cylinder 3.2-litre (3192cc) engine develops 243PS and 320Nm of torque, which translates into a 0-60mph time of 8.9 seconds with emissions of 269 g/km and a top speed of 130mph. It also comes as standard with Volvo's six-speed Geartronic transmission and the latest All Wheel Drive (AWD) system with Instant TractionTM.
Built at Bridgend in Wales, the 3.2 is a modern unit, mostly made of aluminium with an efficient design. A straight-six engine is, intrinsically, the most refined and smoothest of all engine configurations. But their length makes them difficult to package transversely. Most straight-six engines would not fit into a car's engine bay crossways; they're too long. Volvo engineers overcame this problem by making the new in-line six-cylinder (SI6) engine extremely compact, and much shorter than the straight-six norm. In fact, it is more compact than Volvo's five-cylinder engines as its ancillary components are neatly positioned behind the engine in the space above the transmission.
The key was a new, unique and highly innovative drive system' known as READ - Rear End Ancillary Drive. All ancillaries, such as power steering pump and air conditioning compressor, are driven by gears at the rear end of the crankshaft. The alternator is direct driven and installed on the engine block. The flywheel damper is now inside the engine.
The result is an extremely short engine, of just 625 mm, or only 3mm longer than Volvo's five-cylinder engine. This substantially increases engine bay space, so the straight-six can be fitted crossways and the excellent crash structure can be configured around it. The SI6 has aluminium block and head and both are structurally optimised to balance low weight and stiffness. Even the camshaft cover is structural, allowing it to incorporate the camshaft bearing caps for further weight reduction. There are twin overhead camshafts and 24-valves (four per cylinder) to provide optimal engine breathing. Engine breathing is further improved by Volvo's patented Cam Profile Switching (CPS) system that features two completely different intake cam profiles machined onto the same camshaft. The engine management system decides which cam profile to use, depending on the engine's running conditions and driver's torque demands. One profile is ideal for low speed/low load driving and offers good torque and excellent fuel economy. The other, which gives longer valve lift, is ideal for enthusiastic driving, at higher speeds. An ingenious two-piece hydraulic valve tappet arrangement alters the cam profiles.
'In principle, Cam Profile Switching creates two engines in one,' says Derek Crabb. 'We can unite widely differing demands on one and the same engine and easily meet the requirements of customers with entirely different wishes. Our focus is just as much on satisfying customers who prioritise performance as those who are more interested in driving comfort and fuel economy.' The SI6 engine also features a continuously Variable Cam Timing (VCT) system, to constantly alter valve overlap to achieve optimum power, efficiency and emissions. The combination of CPS and VCT gives the new straight-six engine an astonishingly broad power and torque band, and improves both outright performance and the vehicle's driveability.
In addition, the Variable Intake System (VIS) - which varies both intake tract length and, more unusually, plenum volume, through two throttle flap valves - boosts low-end torque and high-end power, further helping the breathing capability of this astonishing engine. For instance, 80 percent of the vehicle's maximum torque is available across the entire rev range, and 256 Nm is on tap all the way from 1400rpm to 6400rpm.
'VIS enables us to exploit the engine's capacity to the maximum and extract the maximum possible power throughout the entire rev range,' says Derek Crabb.
The SI6 engine is also amazingly clean, complying with Euro5 emission control standards, and ULEV (Ultra Low Emissions Vehicle) II standards in the US.
It achieves high performance with good fuel economy thanks to its valve train, with both Variable Cam Timing (VCT) and Cam Profile Switching (CPS) on the intake side. With CPS, the intake valves can be lifted to different heights depending on engine revs and load - a lower lift for economical driving and a higher one for more power, almost creating two engines in one.
D5
Volvo's 2400cc, D5 turbodiesel, which develops 185PS and 400Nm of torque, offers both strong mid-range urge and refinement. It is fitted with a diesel particulate filter as standard, a six-speed manual transmission or (optionally) Volvo's six-speed Geartronic, plus the latest common-rail direct-injection technology. The manual Volvo XC90 D5 gets from 0-60mph in 10.3 seconds and has a top speed of 121mph, whilst achieving an average of 34.0mpg on the combined cycle.
The Volvo XC90 boasts a C02 figure of 219g/km for the manual 185 PS D5 diesel engine and now the best selling automatic version, the D5 Geartronic has a tax-appealing figure - 224g/km.
This CO2 figure means the D5 Geartronic engine falls into Band K for Vehicle Excise Duty, saving new Volvo XC90 owners L570 in Vehicle Excise Duty over three years.
The D5 turbodiesel engine was substantially revised and enhanced in 2005 following technological developments and extensive changes to the performance characteristics. For example, these included:
New electronic glow plug system for faster starting.
More advanced injection process with 7 spray holes instead of 5 in each injector for complete fuel atomization and more efficient combustion and enhanced performance.
New, larger and more efficient turbocharger with electronic control for faster/more precise control of charge pressure; plus larger compressor wheel, new cambered vanes for improved response at all speeds and reduced turbo lag.
Turbo centre housing now water cooled to provide continued cooling after engine stops.
Improved flow of air/exhaust gases for optimal flow and reduced drop of pressure.
More powerful engine management system with more sensors to improve regulation.
EGR (Exhaust Gas Recirculation) system modified for improved flow/regulation.
New, more effective cooling system for EGR.
Faster, electronically controlled throttle moves EGR gases/regulates temperature better.
Air swirl in combustion chamber is now infinitely variable for more efficient combustion.
Increased volume for combustion chambers and consequently a lower compression ratio.
Larger catalytic converter with oxygen sensor for more precise emissions control.
NOx emissions reduced by 50 per cent.
Maintenance free, coated diesel particulate filter (Euro IV compliant) automatically burns off soot particulates - approximately every 500 miles.
Polestar Performance engine upgrade
A collaboration between Volvo's Racing Team, Polestar, and Volvo Car Corporation's powertrain department has produced 'Polestar Performance'. This bespoke software is available on the D5 185 PS engine and enhances the vehicle's performance.
The engine control system upgrades offer a power increase of 20 horsepower to 205 PS, without affecting the car's fuel consumption in normal driving. After optimisation, the acceleration of the car improves on average by 0.5 seconds in both manual and Geartronic transmissions. Naturally, the car also complies with the strict emissions regulations stipulated by EU legislation.
More importantly, all warranties from Volvo will apply. None of Polestar's power optimisation kits increase the car's top speed. As a result, standard brakes and tyres can be used.
The software upgrade is available from Volvo's UK dealer network and costs £650 including VAT.
See also:
Electronic climate control, ECC
Electronic climate control, ECC 1 Temperature control, driver's side 2 Heated driver's seat* 3 Defroster (maximum effect) 4 Blower 5 Manual air distribution—floor 6 Manual air distribution—das ...
Selecting a magnetic zone
Magnetic zones. The earth is divided into 15 magnetic zones. The correct zone must be selected for the compass to work correctly. 1. Put the ignition in mode II. 2. Using a pen or similar obje ...
Condensation on the inside of thewindows
Keeping the insides of the windows clean will help reduce the amount of condensation that forms on the windows. Use a commercial window cleaning agent to clean the windows. ...