Defroster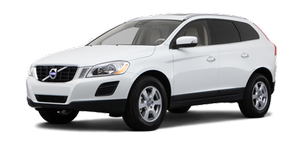 This function defrosts/de-ices the windshield and front side windows. The indicator light in the defroster button lights when the function is active.
• Blower speed increases automatically and the air conditioning will switch on (if not already on and if the passenger compartment blower is not turned off) to dehumidify the air in the passenger compartment.
Air conditioning can be switched off by pressing the AC button.
• Recirculation will not function while defrost is engaged.
The climate system will return to its previous settings when the defroster function is switched off.
See also:
Power brakes function only when the engine is running
The power brakes utilize vacuum pressure which is only created when the engine is running. Never let the vehicle roll to a stop with the engine switched off. If the power brakes are not working, ...
Audible signals from the park assistsystem
The Park Assist system uses an intermittent tone that pulses faster as you come close to an object, and becomes constant when you are within approximately 1 ft (30 cm) of an object in front of or ...
Use of Additives
With the exception of gas line antifreeze during winter months, do not add solvents, thickeners, or other store-bought additives to your vehicle's fuel, cooling, or lubricating systems. Overuse ...