Defroster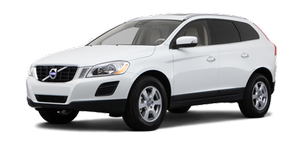 This function defrosts/de-ices the windshield and front side windows. The indicator light in the defroster button lights when the function is active.
• Blower speed increases automatically and the air conditioning will switch on (if not already on and if the passenger compartment blower is not turned off) to dehumidify the air in the passenger compartment.
Air conditioning can be switched off by pressing the AC button.
• Recirculation will not function while defrost is engaged.
The climate system will return to its previous settings when the defroster function is switched off.
See also:
Seat belt use during pregnancy
The seat belt should always be worn during pregnancy. But it is crucial that it be worn in the correct way. The diagonal section should wrap over the shoulder then be routed between the breasts ...
Re-installing the wheel
1. Clean the contact surfaces on the wheel and hub. 2. Lift the wheel and place it on the hub. Tighten the lug nuts 3. Install the wheel nuts and tighten handtight. Using the lug wrench, tight ...
Removing and storing the cargo net
Press the release buttons on the locks on the straps and pull out a small section of the strap. Press in the catches on the straps' hooks and remove the hooks from the eyelet. Fold u ...