Paths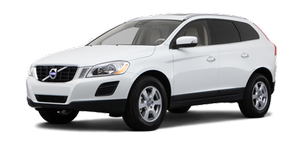 The current menu level is displayed at the upper right of the center console display. Menu paths are displayed as follows, for example:
Settings

Car settings

Lock settings

Doors unlock

Driver door, then all
The following is an example of how to set a function in the menu system:
1. Press the MY CAR button on the center console control panel.
2. Navigate to a menu, for example Settings using the thumb wheel (1) and press it to open a submenu.
3. Navigate to the desired submenu such as Car settings.
4. Navigate to Lock settings and press the thumb wheel to open a new submenu.
5. Navigate to Doors unlock and press the thumb wheel to open a submenu with alternatives that can be selected.
6. Use the thumb wheel to move to the desired choice and press the thumb wheel to put an X in the box.
7. Finish by exiting the menu system either one step at a time with short presses on EXIT (2) or press and hold this button to return to the main menu.
The OK/MENU (2), EXIT (4) and control (3) in the center console can be used in the same way.
See also:
Detachable key blade
The key blade can be removed from the remote key. When removed, the key blade can be used to: Lock/unlock the driver's door if the remote key is not functioning properly Lock/unlock the gl ...
Tailgate wiper blade
To change a tailgate wiper blade: 1. Pull the wiper arm rearward, away from the tailgate window. 2. Pull out the wiper blade as shown in the illustration. 3. Press the new wiper blade into pl ...
Dialing a number
The system understands the digits zero to nine. These numbers can be spoken individually, in groups of several digits at a time, or the entire number can be given at once. Numbers above nine wi ...