Paths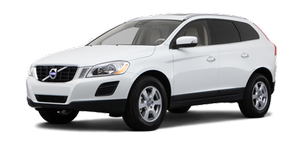 The current menu level is displayed at the upper right of the center console display. Menu paths are displayed as follows, for example:
Settings

Car settings

Lock settings

Doors unlock

Driver door, then all
The following is an example of how to set a function in the menu system:
1. Press the MY CAR button on the center console control panel.
2. Navigate to a menu, for example Settings using the thumb wheel (1) and press it to open a submenu.
3. Navigate to the desired submenu such as Car settings.
4. Navigate to Lock settings and press the thumb wheel to open a new submenu.
5. Navigate to Doors unlock and press the thumb wheel to open a submenu with alternatives that can be selected.
6. Use the thumb wheel to move to the desired choice and press the thumb wheel to put an X in the box.
7. Finish by exiting the menu system either one step at a time with short presses on EXIT (2) or press and hold this button to return to the main menu.
The OK/MENU (2), EXIT (4) and control (3) in the center console can be used in the same way.
See also:
Sound stage
The sound experience can be optimized for the driver's seat, both front seats or the rear seat. If the front and rear seats are occupied, the sound stage setting Front seats is recommended. Sele ...
Glove compartment
The owner's manual and maps can be kept here. There are also holders for pens and fuel cards. The glove compartment can be locked manually with the key blade, see page 69. ...
Interior

Yes, I've already mentioned the S60's copper color, and I might have mentioned how much I really liked it. Well, guess what? The S60's interior is copper, too. Actually, it's called Beechwood Brow ...