Paths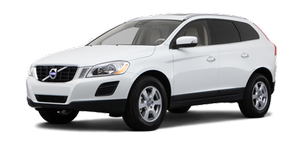 The current menu level is displayed at the upper right of the center console display. Menu paths are displayed as follows, for example:
Settings

Car settings

Lock settings

Doors unlock

Driver door, then all
The following is an example of how to set a function in the menu system:
1. Press the MY CAR button on the center console control panel.
2. Navigate to a menu, for example Settings using the thumb wheel (1) and press it to open a submenu.
3. Navigate to the desired submenu such as Car settings.
4. Navigate to Lock settings and press the thumb wheel to open a new submenu.
5. Navigate to Doors unlock and press the thumb wheel to open a submenu with alternatives that can be selected.
6. Use the thumb wheel to move to the desired choice and press the thumb wheel to put an X in the box.
7. Finish by exiting the menu system either one step at a time with short presses on EXIT (2) or press and hold this button to return to the main menu.
The OK/MENU (2), EXIT (4) and control (3) in the center console can be used in the same way.
See also:
Situations where ACC may not function optimally
WARNING The radar sensor has a limited field of vision. In some situations it may detect a vehicle later than expected or not detect other vehicles at all. If ACC is not functioning prop ...
Interior lighting, front
Light switches, front roof lighting 1 Drivers side front reading light, on/off. 2 Passenger's side front reading light, on/off. 3 Overhead courtesy lighting. The lighting in the front part of th ...
Seat belt use during pregnancy
The seat belt should always be worn during pregnancy. But it is crucial that it be worn in the correct way. The diagonal section should wrap over the shoulder then be routed between the breasts ...