Releasing the electric parking brake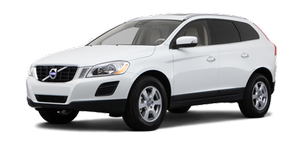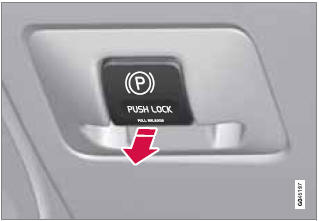 Parking brake control
Manual release
1. Fasten the seat belt.
2. Insert the remote key in the ignition slot (or press the START/STOP ENGINE button on vehicles with the optional keyless drive).
3. Press firmly on the brake pedal.
4. Pull the parking brake control.
Automatic release
1. Start the engine.
NOTE
• For safety reasons, the parking brake is only released automatically if the engine is running and the driver is wearing a seat belt.
• The electric parking brake will be released immediately when the accelerator pedal is pressed and the gear selector is in position D or R.
2. Fasten the seat belt.
3. Move the gear selector to position D or R and press the accelerator pedal. The parking brake will release when the vehicle begins to move.
Heavy load uphill
A heavy load, such as a trailer, can cause the vehicle to roll backward when the parking brake is released automatically on a steep incline. To help avoid this:
1. Keep the electric parking brake lever pushed in with the left hand while shifting into Drive with the right.
2. While pressing the throttle pedal to pull away, release the parking brake lever only after the vehicle begins to move.
See also:
Maintenance
Your Volvo passed several major inspections before it was delivered to you, in accordance with Volvo specifications. The maintenance procedures outlined in the Warranty and Service Records Inf ...
Minimum octane
Typical pump octane label Volvo recommends premium fuel for best performance, but using 87 octane1 or above will not affect engine reliability. Volvo engines are designed to achieve rated horsep ...