Six-cylinder turbo engine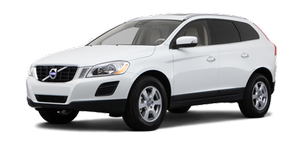 The 3-litre, six-cylinder turbo engine is transversely mounted and very compact. The engine delivers 285 horsepower and 400 Nm of torque, from low up to high revs. The turbo-six provides a high level of driving pleasure, with quick throttle response at all speeds, ideal for quick overtaking, for example.
Five-cylinder turbo-diesel in two variants
The Volvo XC60 is available with two five-cylinder turbo-diesel engines, producing 163 hp and 340 Nm or 185 hp and 400 Nm. The diesel engines combine low fuel consumption with sporty driving characteristics. The driveability is very good even with a heavy load or when driving with a trailer. Both engines are equipped with a diesel particulate filter (DPF) to help reduce the amount of harmful particles in the exhaust gases.
Six-speed automatic transmission with Geartronic
The compact, six-speed automatic transmission has been engineered to handle the high torques developed by engines such as the T6 and the powerful D5 diesel engine. Geartronic enables the automatic transmission to be used as a manual gearbox as well.
See also:
Jump starting
Connecting the jumper cables Follow these instructions to jump start your vehicle's dead battery or to jump start another vehicle's dead battery using your vehicle. If the 12-volt auxilia ...
Keyless locking and unlocking
Range of the keyless drive remote key–5 ft (1.5 meters) This system makes it possible to unlock and lock the vehicle without having to press any buttons on the Personal Car Communicators (P ...
Front park assist
The distance monitored in front of the vehicle is approximately 2.5 ft (0.8 m). The audible signal comes from the audio system's front speakers. It may not be possible to combine auxiliary he ...