Rain sensor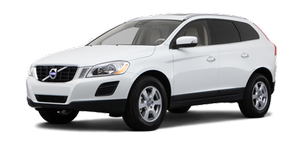 The rain sensor automatically regulates wiper speed according to the amount of water on the windshield. The sensitivity of the rain sensor can be adjusted moving the thumb wheel up (the wipers will sweep the windshield more frequently) or down (the wipers will sweep the windshield less frequently).
NOTE
The wipers will make an extra sweep each time the thumb wheel is adjusted upward.
When the rain sensor is activated, the symbol

will illuminate in the instrument panel.
Activating and setting the sensitivity
When activating the rain sensor, the vehicle must be running or in ignition mode II and the windshield wiper lever must be in position 0 or in the single sweep position.
Activate the rain sensor by pressing the button

. The windshield wipers will make one sweep.
Press the lever up for the wipers to make an extra sweep. The rain sensor returns to active mode when the stalk is released back to position 0.
Deactivating
Deactivate the rain sensor by pressing the button

or press the lever down to another wiper position.
The rain sensor is automatically deactivated when the key is removed from the ignition slot or five minutes after the ignition has been switched off.
CAUTION The rain sensor should be deactivated when washing the car in an automatic car wash, etc. If the rain sensor function is left on, the wipers will start inadvertently in the car wash and could be damaged.
See also:
Vanity mirror lights
1. Carefully insert a screwdriver and pry out the lens. 2. Pry out the bulb and replace it. 3. Carefully press the lower edge of lens onto the four tabs and press the upper edge of the lens in ...
Washing the car
The following points should be kept in mind when washing and cleaning the car: • The car should be washed at regular intervals since dirt, dust, insects and tar spots adhere to the paint and ma ...
Engaging the cruise control function
Before a speed can be set, the cruise control system must be engaged (put in standby mode). Press the symbol (1). > The symbol illuminates and the text (---) mph (5) indicates that crui ...