Range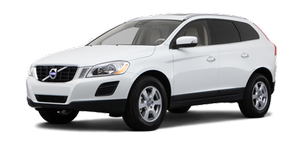 The PCC's lock and unlock functions have a range of approximately 60 ft. (20 m) from the vehicle.
NOTE
• The approach lighting, panic alarm, and the functions controlled by the information button have a range of approximately 300 ft (100 m) from the vehicle.
• Radio waves, buildings or other obstacles may interfere with the function of the PCC.
If the vehicle does not provide confirmation when a button has been pressed, try moving closer and pressing the button again.
Outside of the PCC´s range
If the PCC is more than approximately 300 ft (100 m) from the vehicle when the information button is pressed, no new information will be received. The PCC most recently used to lock or unlock the vehicle will show the vehicle's most recently received status. The indicator lights will not flash when the information button is pressed while the PCC is out of range.
If more than one PCC is used to lock/unlock the vehicle, only the one used most recently will show the correct locking status.
NOTE
If none of the indicator lights illuminate when the information button is pressed, this may be because the most recent transmission between the vehicle and the PCC was interrupted or impeded by buildings or other objects.
See also:
Audio volume and automatic volume control
The infotainment system compensates for disrupting noises in the passenger compartment by increasing the volume according to the speed of the vehicle. The level of sound compensation can be set at ...
Stage 2: Checking inflation pressure
1. Connect the tire sealing system as described in stage 1. 2. Refer to the inflation pressure table in this chapter for the correct inflation pressure. If the tire needs to be inflated, start ...
Instrument panel
1 Turn signal indicators – right/left 2 Text window – The text window displays information and warning messages. 3 Temperature gauge – The pointer should be approximately midway on the gauge wh ...