Using the information button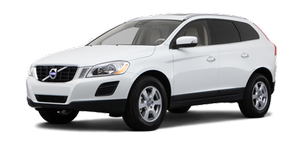 1. Press the information button

.
2. All of the indicator lights will flash sequentially for approximately 7 seconds to indicate that the PCC is receiving information from the vehicle. If any of the buttons are pressed during this 7-second period, transmission of information to the PCC will be interrupted.
NOTE
If none of the indicator lights flash when the information button has been pressed several times from different places in relation to the vehicle, contact an authorized Volvo service technician.
The indicator lights provide information according to the illustration: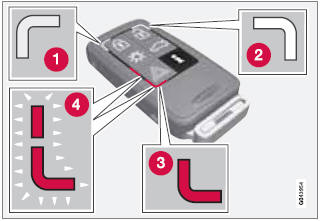 1 Steady green light: the vehicle is correctly locked.
2 Steady yellow light: the vehicle is not locked.
3 Steady red light: the alarm has been triggered.
4 Both red lights flash alternatively: the alarm was triggered less than 5 minutes ago.
See also:
If the BRAKE and ABS warning lights comeon at the same time, this could indicate afault in the brake system.
• Stop the vehicle in a suitable place and switch off the engine. • Restart the engine. • If both warning lights go off, no further action is required. • If both lights are still on after the eng ...
Vehicle Overview
Volvo's latest compact wagon debuted at the 2003 Bologna Motor Show in Italy. The automaker began selling the V50 in the summer of 2004, shortly after the comparably redesigned S40 sedan. The auto ...
Introduction
Collision Warning with Full Auto-brake and Pedestrian Detection is designed to assist the driver if there is a risk of a collision with a pedestrian, a vehicle ahead that is at a standstill or one ...