Driving after a collision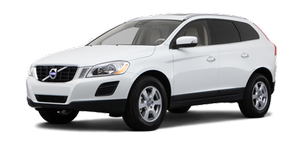 If the vehicle has been involved in a collision, the text Safety mode See manual may appear in the information display. This indicates that the vehicle's functionality has been reduced.
NOTE
This text can only be shown if the display is undamaged and the vehicle's electrical system is intact.
Safety mode is a feature that is triggered if one or more of the safety systems (e.g. front or side airbags, an inflatable curtain, or one or more of the seat belt pretensioners) has deployed. The collision may have damaged an important function in the vehicle, such as the fuel lines, sensors for one of the safety systems, the brake system, etc.
WARNING
Х Never attempt to repair the vehicle yourself or to reset the electrical system after the vehicle has displayed Safety mode See manual. This could result in injury or improper system function.
Х Restoring the vehicle to normal operating status should only be done by a trained and qualified Volvo service technician.
Х After Safety mode See manual has been displayed, if you detect the odor of fuel vapor, or see any signs of fuel leakage, do not attempt to start the vehicle. Leave the vehicle immediately.
See also:
Function check
All indicator and warning symbols light up in ignition mode II or when the engine is started. When the engine has started, all the symbols should go out except the parking brake symsymbol, which o ...
Speed rati
The speed ratings in the table translate as follow: Speed ratings M 81 mph (130 km/h) Q 100 mph (160 km/h) T 118 mph (190 km/h) H 130 mph (210 km/h) ...
INFOЧdisplaying additional information
In certain cases, more information may be available (about a radio station, song, artist, etc.) than is currently displayed on the screen. Press the INFO button to display all of the availabl ...