Fastening a seat belt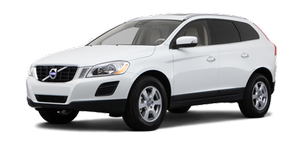 Buckling
Pull the belt out far enough to insert the latch plate into the receptacle until a distinct click is heard. The seat belt retractor is normally "unlocked" and you can move freely, provided that the shoulder belt is not pulled out too far.
Seat belt retractor
The seat belt retractor will lock up in the following situations:
Х if the belt is pulled out rapidly
Х during braking and acceleration
Х if the vehicle is leaning excessively
Х when driving in turns
Х if the Automatic Locking Retractor/Emergency Locking Retractor (ALR/ELR) is activated
NOTE
Each seat belt (except for the driver's belt) is equipped with the ALR/ELR function, which is designed to help keep the seat belt taut. ALR/ELR activates if the seat belt is pulled out as far as possible. If this is done, a sound from the seat belt retractor will be audible, which is normal, and the seat belt will be pulled taut and locked in place. This function is automatically disabled when the seat belt is unbuckled and fully retracted.
See also page 38 for information about using a seat belt's ALR/ELR function to anchor a child seat.
When wearing the seat belt remember:
Х The belt should not be twisted or turned.
Х The lap section of the belt must be positioned low on the hips (not pressing against the abdomen).
Х Make sure that the shoulder belt is rolled up into its retractor and that the shoulder and lap belts are taut.
See also:
Steering wheel keypad
Standard steering wheel keypad 1 - Left/right arrow keys: A short press moves between preset radio stations or tracks on a disc. Press and hold to search within tracks or to tune to the next/prev ...
Getting started
Voice control button on the steering wheel ...
Operation
Chassis settings Use the buttons in the center console to change setting. The setting in use when the engine is switched off is activated the next time the engine is started. ...