Bluetooth® menus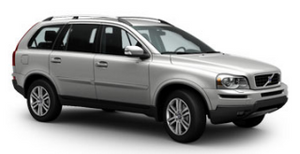 1. Call register…
1.1. Last 10 missed calls
1.2. Last 10 received calls
1.3. Last 10 dialed calls
2. Call register…
2.1. Search
2.2. Copy fr. cell phone
3. Bluetooth…
3.1. Change phone
3.2. Remove phone
3.3. Connect fr. cell phone
3.4. Car Bluetooth info
4. Call options…
4.1. Automatic answer
4.2. Voice mail number
5. Phone settings…
5.1. Sounds and volume…
5.1.1. Ring volume
5.1.2. Ring signals…
5.1.3. Mute radio
5.2. Synchronize phone book
See also:
Behind the wheel
The base XC60 has a 240-horsepower, 3.2-liter six-cylinder engine. I drove the more powerful T6 version, which was a little bit of a bummer. I appreciated the solid feel and the 325-hp, turbocharg ...
Summary
• The camera is activated when the gear selector is moved to R (this can be changed in the MY CAR menu) and the image is shown on the center console display. • When backing up, two solid lines ...
Interior Design
While the exterior of the Volvo S40 could be described as evolutionary from the S60 and S80, the interior represents nothing less than a revolution in car design. Its focal point is an ultra-thin ...